Exclusive
Prince Harry Told Not To Publicly Apologize For Nude Snaps By Prince Charles!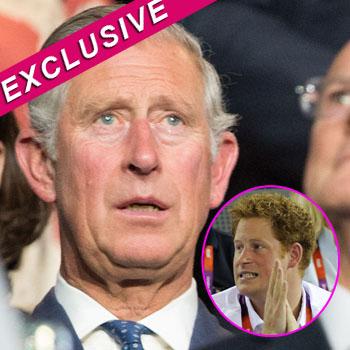 By Jon Boon - Radar Reporter
Prince Harry has been told to forget about publicly apologizing for his naked photo scandal by his dad Prince Charles, RadarOnline.com is exclusively reporting.
The 27-year-old 'Party Prince,' who planned on saying sorry for his Las Vegas hijinks has now been asked not to say anything in the hope the latest royal scandal blows over.
In a heart to heart with his son, Charles admitted he too got caught up in some embarrassing bad-boy behavior when he was the same age and that he accepts boys will be boys.
Article continues below advertisement
"Of all the royal family, Charles was the most accepting of Harry's behavior," a source revealed.
"In his younger years he was just as much a playboy as Harry is now, so he's more understanding when it comes to this sort of thing."
Charles also believes that the sooner Harry joins his military unit in Afghanistan the sooner it will all be forgotten.
"While he told Harry to be a little more responsible, he didn't chastise him because he didn't think he did anything wrong," the insider said.
"Charles doesn't believe there's any need for a public apology and instead said to Harry he should go to Afghanistan as soon as he makes an appearance at the Paralympics and join his rank.
"The quicker he goes out there, the sooner this will all blow over," the source said.
However, with the revelation that a video of what went down in Harry's VIP suite at the Wynn Hotel exists, this story shows no sign of abating anytime soon.
Article continues below advertisement
As RadarOnline.com previously reported, hookers and a known cocaine dealer were in Harry's hotel room during his now infamous naked romp.
"A really good friend of mine is a cocaine dealer and texted me from the hotel room while the party was happening and said, 'Guess where I am?!?'" a source exclusively told RadarOnline.com
"Turns out he was in the Wynn suite with Harry, his pals and all those girls."
RadarOnline.com has confirmed that at least one of the women partying in Harry's suite has been known to prostitute and accept money and gifts for sexual favors.
"My friend won't give up any of the details about what happened in that hotel suite, including whether or not Harry was doing coke, but he was definitely there," the source concluded.
RELATED STORIES:
Prince Harry's Legal Team Bans UK Papers From Running Nude Vegas Photos