Owners Of Michael Vick's Former Dog Fighting Home Accused Of Animal Cruelty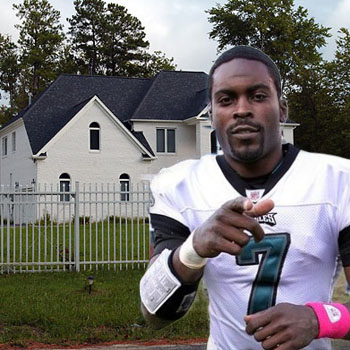 By Debbie Emery - RadarOnline.com Reporter
Any dogs might want to stay well away from this property!
Animal control officers are investigating the new owners of the house where football player Michael Vick ran a dog-fighting ring on suspicion of animal cruelty.
Tamira Thayne was supposed to turn the tainted estate in Surry County, Virginia, into a safe place for dogs and abandoned pets, but instead she is now accused of not adequately taking care of her wards at the Good Newz Rehab Center, which was previously called Bad Newz Kennels when the NFL star owned it, the Virginian-Pilot is reporting.
Article continues below advertisement
Chief Animal Control Officer Tracy Terry revealed that the owner of Dogs Deserve Better, who opened the shelter in the Philadelphia Eagles quarterback's former home in June 2011, had not yet been arrested and the center is still currently open.
Animal control officers began investigating following several complaints about maltreatment of the 10 dogs kept there and a visit from a state veterinarian led to an arrest warrant.
The group had intended to renovate the property and make it into a state of the art facility for hundreds of dogs who were either chained or penned.
As RadarOnline.com previously reported, after serving 19 months in prison on dogfighting charges, Vick was released in July 2009. He started playing for the Eagles the following September and immediately began trying desperately to rehab his image.
Despite his troubled past and criminal record, the QB has bounced back to sign a 6-year, $100 million contract with the Eagles, re-signed the multimillion dollar endorsement deal with Nike after they dropped him when he went to jail, and even begun working with the Humane Society to bring awareness about animal cruelty.
Article continues below advertisement
"Just as former drug addicts are able to reach people struggling with addiction, former dog fighters are some of the most effective voices against this crime," the Humane Society wrote in a statement last month.
Michael Vick's autobiography, Finally Free, is released on September 4.
RELATED STORIES:
Hiker Charged With Animal Cruelty For Abandoning German Shepherd On Colorado Mountain
Michael Vick Seeks Forgiveness For Dog Fighting: 'I Was Naïve To The Consequences'