Natural Beauty! Olympic Gymnast McKayla Maroney Posts Make-Up Free Photos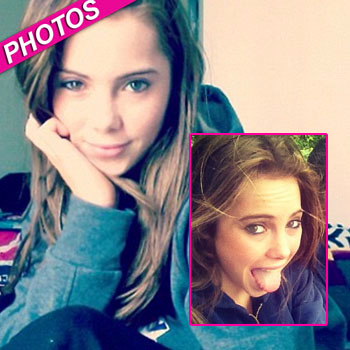 As one of the Olympics "Fierce Five" who walked away with gold, gymnast McKayla Maroney has mainly been seen perfectly made up and in a flashy leotard as she somersaulted her way to glory.
But the 16-year-old athlete showed fans that she is just a regular girl at heart and posted some cute bare-faced pictures of herself on Instagram and RadarOnline.com has the gorgeous pics.
"Sweat pants, hair tied, chillin with no make-up on… Relaxing day in the village!! #dayoff," she wrote.
Article continues below advertisement
And without even a swipe of lipstick, Maroney revealed her youthful glow and beauty which was well received by her followers.
"No make-up but still beautiful," one person gushed.
The quirky girl also posted some pictures of herself and her teammates; Gabby Douglas, Kyla Ross, Jordyn Wieber and Aly Raisman enjoying an open top double decker bus ride around London.
In a few hilarious shots, Maroney is even seen showing former first daughter Jenna Bush-Hager how to do the popular moves to Cali Swag District's Teach Me How To Dougie.
Maroney received the silver medal for the individual title and was pictured frowning on the podium. The image is now being used in a Tumblr called "McKayla Is Not Impressed" which places the image over iconic images like the Duke and Duchess of Cambridge kissing on the balcony of Buckingham Palace and by the lunch table in the movie Mean Girls.
The pretty brunette is taking it all in her stride though and retweeted the link to the site so her fans could have a laugh about it too.