Exclusive
Kim Kardashian Curse! Potential Brides Shunning Montecito Home Reality Star Got Hitched At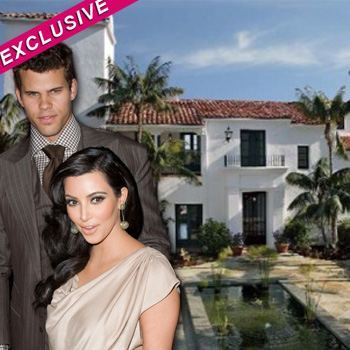 By Jon Boon - RadarOnline.com Reporter
Kim Kardashian's failed marriage to basketball star Kris Humphries has jinxed the Montecito, Calif. home where the nuptials were exchanged, RadarOnline.com is exclusively reporting.
The stunning estate, which is owned by venture capitalist Frank Caulfield, used to be a haven for the very wealthy to stage their elaborate weddings, as well as a prime location for filming.
However, since Kim's big day the home has been rarely used, with the owner blaming the reality star for making the 1926 George Washington Smith-designed Spanish Colonial mansion appear a tacky option for wannabe punters. And now, Schmidt is even considering selling the place!
Article continues below advertisement
"Since Kim married Kris at Eric's Montecito home, no one wants to get married there any more," a source said.
"Before Kim, the home was often used in the Summer months as a place where the rich could hold their private weddings – but now couples are shunning the estate because they think the place is jinxed.
"They saw that Kim's marriage lasted just 72 days – and they just don't want the same fate happening to them.
"Kim, being a reality TV star, also brings the level of class down – people are reluctant to follow in her nouveau riche footsteps and think its tacky now to wed in the same place she has."
Schmidt, 57, bought the stunning property from chat show host Ellen DeGeneres for $20 million in late 2007.
Kim became engaged to NJ Nets star Kris in May 2011 and married him just three months later on August 20, 2011. The wedding itself aired on E! in early October 2011 with a two-part special.