Exclusive
Camille Grammer Reacts To Kelsey's Interview, Says 'I Wish Him No Ill Will'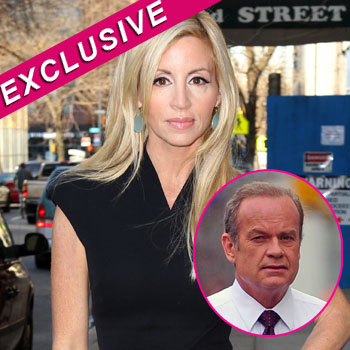 Article continues below advertisement
As previously reported, Kelsey and Kayte were recently interviewed together. Preview clips released ahead of the interview, which will air this Sunday, reveal that Kelsey still has a lot to say about Camille, even though he refuses to even say her name!
Kelsey said that he felt he owed "fame" to Camille, claiming, "I did believe that I owed something to that person, that I owed fame. She had given up so much to just endure this horrible life she had with me."
Camille's divorce to Kelsey was featured on the first season of The Real Housewives of Beverly Hills. Sources close to the situation tell RadarOnline.com that Camille was blindsided by Kelsey's decision to pull the plug on the marriage.
Attention was then shifted to Kayte, and she was asked, "Had you known that it was going to be as public and as much vitriol. Would you still have stepped into this?"
"It's OK to say you're not sure," the enigmatic Kelsey interjected, though Kayte was swift in her answer, saying she would have gotten involved with the veteran actor "because I love him."
MORE ON:
The Real Housewives of Beverly Hills
Article continues below advertisement
Kayte, who met her now-husband while she was working a Los Angeles to London flight, said the hardest part of her marriage to the 57-year-old Cheers star is people judging her "and not knowing anything about the truth … just marriage is hard, generally."
Meanwhile, Camille has been happily dating Dimitri Charalambopoulos for more than a year and the two just got back from his native Greece.
Camille will be featured as a special guest star on the new season of The Real Housewives of Beverly Hills.