Camille Grammer Wants $10 Million Safety Net From Kelsey In Case He Dies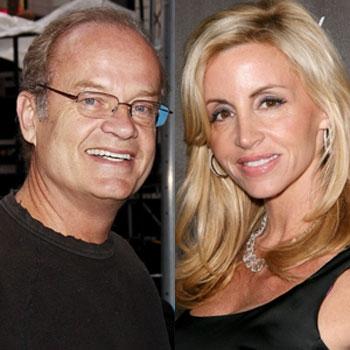 Attorneys for Kelsey and Camille Grammer appeared in a Los Angeles courtroom to address the financial settlement in the couple's contentious divorce, RadarOnline.com has exclusively learned.
Neal Hersh and Lance Spiegel appeared before Judge Maren E. Nelson's Wednesday when it was revealed that the paperwork previously submitted by Kelsey was only a proposed settlement – not permanent as ordered by the court in order to grant the bifurcation.
Article continues below advertisement
Last week, Camille filed a series of new documents with the Los Angeles County Superior Court challenging the bifurcation, claiming that her pension expert, Darren J. Goodman, Esq., wasn't given a chance to properly review Kelsey's fortune - including his Screen Actors Guild Pension, which she is entitled to a share of given there is no pre-nup -- despite the former Frasier star's court bid to rush through the split.
Camille's lawyer, Neal Hersh, addressed the court with his concerns that if Kelsey remarries next month and then he dies, Camille would have to pay out of her own pocket for any litigation regarding his estate.
Hersh is requesting for Kelsey to put money into a bond to cover any potential future court costs until the divorce case has settled - suggesting $10 million should cover it!
"My client shouldn't have to litigate against the Mrs. Grammer-to-be-next. We're not in the gambling business," Hersh told the judge.
Article continues below advertisement
Judge Nelson set a February 2 deadline for Kelsey to file the permanent settlement details and if both parties agree on the terms, the judge may grant the bifurcation at the February 7 hearing – freeing up Kelsey to marry Kayte Walsh as soon as Valentine's Day!
As RadarOnline.com previously reported, Kelsey filed to bifurcate his marriage to Camille, which means that he wants the judge in his divorce to sign off on the divorce - something that is usually done when one of the parties wishes to remarry immediately.
In her objection, Camille stated: "Pursuant to my accountants' preliminary estimate, our community estate is worth in approximate amount of One Hundred Twenty Million Dollars. This is a substantial estate which includes multiple real estate properties and their corresponding furnishings, numerous pieces of valuable art, many investment, brokerage, and bank accounts, over twenty-five vehicles."
At the time of the divorce filing, Camille was filming what would be a one-off stint on the Bravo show, while Kelsey was busy with the Broadway production of La Cage aux Folles.