Exclusive
Meow! Jennifer Lawrence Aims Dig At Kristen Stewart: I Would Never Cheat On My Boyfriend!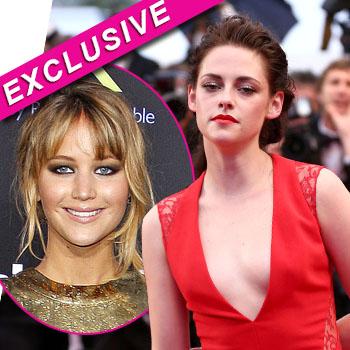 Article continues below advertisement
However, unlike some, she claims that she definitely won't ever be tempted to stray from her British actor boyfriend Nicholas Hoult.
"Jennifer has a healthy rivalry with Kristen, but she thinks that the cheating scandal she got caught up in could have been avoided," a source close to Lawrence revealed.
"Recently, although she didn't say Kristen's name directly, she couldn't resist having a subtle dig at her rival. She told a group of friends that she would never two-time Nicholas.
"Jennifer then went on to say that she has received attention from many older men, especially powerful movie directors in the past, and would never want to jeopardize her career by getting involved with a married man.
"She was clearly referring to Kristen's liaison with Rupert," the source said.
As RadarOnline.com previously reported, the bitter rivals were recently embroiled in a battle for the lead role in the big screen adaptation of William Styron's novel, Lie Down in Darkness.
Article continues below advertisement
PHOTO: Kristen Stewart Poses In Drag For Elle
This time, it was Kristen that was rubbing her hands with glee as she beat her nemesis to the part. It was much needed relief for the 22-year-old actress after suffering the fallout for her affair with married Snow White and the Huntsman director Rupert Sanders.
"Kristen is obviously down about what happened with her and Robert Pattinson, but she was thrilled when she found out she beat Jennifer Lawrence to a movie role," a source told RadarOnline.com
"She is insanely jealous of Jennifer, not just because she feels The Hunger Games has stolen some of Twilight's thunder, but because everyone was talking about her as such a beautiful actress.
"Kristen has never been comfortable in her own skin and feels threatened by Jennifer's good looks. And the thing with Jennifer is, she isn't just attractive, she's a talented actor.
"Jennifer's a threat to Kristen, she's only a year younger, so chances are they will continue to battle it out for the same movie roles.