Exclusive
Hunger Games War: Jennifer Lawrence Pay Raise Upsets Co-Stars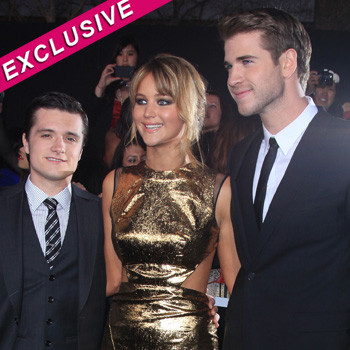 Article continues below advertisement
And the two male leads are even threatening to walk if the movie studio doesn't give them what they want.
"When stars are negotiating their contracts, these things can happen and stars will try and bump up their salaries," a source said.
"Liam and Josh got wind of Jennifer's significant pay raise and they want more money to appear in the second movie of the tetralogy.
"They're not demanding as much as Jennifer, they're aware she plays a bigger role in the films, but they want a little more than the $2 million they were each offered.
"With the success of the first movie, they feel that $5 million is a more suitable fee and are haggling with the studio before dotting the i's and crossing the t's on their deals.
"And they have even said they may not return for the sequel, which they hope will be a bargaining chip for a bigger pay packet," the source revealed.
As the Hollywood Reporter reported, Lawrence is currently negotiating her $10 million paycheck for the movies' next installment. That figure will include salary, bonuses and escalators.
MORE ON:
Jennifer Lawrence
Article continues below advertisement