Congratulations! Dr. William Petit Remarries Five Years After Family Massacre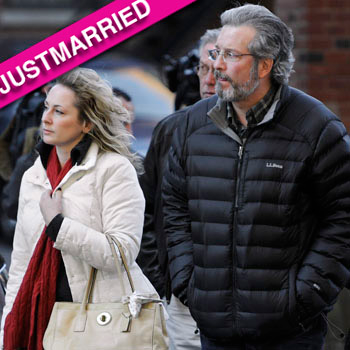 By Debbie Emery - RadarOnline.com Reporter
Dr. William Petit hasn't had much to smile about during the past five years since his wife and daughters were brutally murdered, but Sunday marked the first step in his new life when he remarried.
The 55-year-old wed photographer Christine Paluf, 34, at a ceremony near his home in Hartford, Connecticut, with 300 of their family and friends there to celebrate at the reception held in nearby Simsbury, reported NBCConnecticut.com.
Article continues below advertisement
As RadarOnline.com previously reported, Dr. Petit's wife Jennifer Hawke-Petit, 48, and daughters Hayley, 17, and Michaela, 11, were tortured and murdered in 2007, and Dr. Petit brutally beaten, by Steven Hayes and Joshua Komisarjevsky, both of whom have been sentenced to death in Connecticut.
Petit proposed to his new bride around Christmas time, shortly after Komisarjevsky was sentenced to death for his part in the the horrific home invasion.
The couple met after Christine worked as a photographer at events for the Petit Family Foundation, a charity he set up in memory of his family after the killings in Cheshire, and his former in-laws encouraged him to find love again following the loss of his first wife.
Cindy Hawke-Renn, Jennifer's sister, said that Christine's down-to-earth and jovial personality has helped change her brother-in-law "from a man of despair to a man of hope.
Article continues below advertisement
Petit Family Massacre Survivor Faces Killer, 'Evil Does Live Among Us'
Dr. Petit Wished 'The Very Best' On His Engagement By Uncle Of Family's Murderer