Amy Winehouse's Ex-Husband Fighting For His Life After Booze Relapse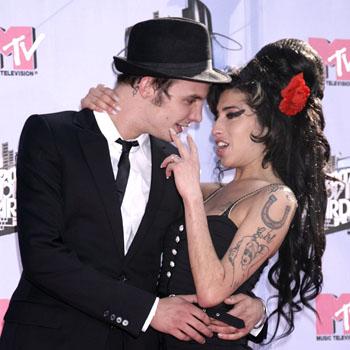 By Debbie Emery - RadarOnline.com Reporter
The man who allegedly introduced Amy Winehouse to the fatal roller-coaster ride of drink and drugs that led to her death is now fighting for his own life, and her father is encouraging the late singer's fans to "pray for his recovery."
Former drug addict Blake Fielder-Civil, 30, was found choking in bed after a heavy party session last Friday and is now in critical condition in a West Yorkshire, England, hospital suffering from organ failure, according to the Sun.co.uk.
Article continues below advertisement
As RadarOnline.com previously reported, Amy's long-suffering father, Mitch Winehouse, blames Blake for the downfall of his beloved daughter, who began a tumultuous relationship with him in 2006. "I'm pretty sure that Amy had started smoking heroin and crack cocaine by then, but at the time I had no idea," wrote Mitch in his recent memoir, Amy, My Daughter.
Now the mourning father is putting his anger aside and hopes Blake gets over his current health crisis. "Terrible news about Blake this morning. Remember Amy loved him. Let's pray for his recovery," Mitch wrote on Twitter on Thursday.
Amy and Blake's troubled marriage finally came to an explosive end in 2009 while he was serving a prison sentence for perverting the course of justice after allegedly manipulating a witness in his upcoming assault trial. After the Rehab singer's death, on July 23, 2011 at age 27, Blake played the role of mourning ex from prison, telling the Sun: "I'm beyond inconsolable … my tears won't dry."
Fielder-Civil's current girlfriend, Sarah Aspin, now fears he is going to follow Amy to her grave. "I'm praying he'll survive, but I'm having to prepare myself that he may never wake up," the mother of Blake's 15-month-old son told the Sun. "The doctors say they don't know the prognosis. They said they put him in a coma to help him and due to infection."
Article continues below advertisement
The former junkie who has long battled heroin addiction — was rushed to intensive care days after the first anniversary of the Back To Black singer's death from accidental alcohol poisoning.
He had reportedly been on an afternoon boozing session with a friend after meeting probation officials following his release from a jail term. He then staggered home "slurring his words," and 34-year-old Sarah found him choking on his vomit in bed at 6 a.m. the following morning.
"I am devastated, just devastated, at what has happened," said Aspin, who met Blake in rehab three years ago and claims the couple were planning to get married. "I just want to cry all the time — but I have to be strong for our son Jack."
Fielder-Civil was sent to prison yet again in June last year after he was found with $6,200 of stolen goods and an imitation gun, he was freed with a security tag two weeks ago in preparation for full release later this month.