Blake Fielder-Civil 'Devastated & Shattered' Over Amy Winehouse's Death, New Girlfriend Says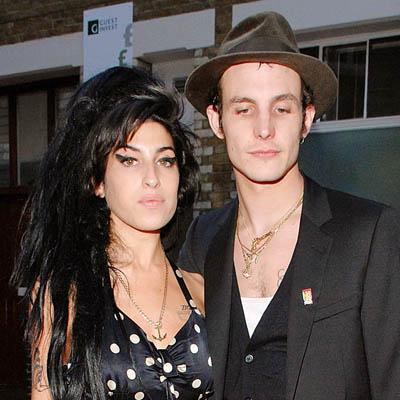 Blake Fielder-Civil's "devastated and shattered" by the death of his ex-wife Amy Winehouse, according to his current love, Sarah Aspin.
"Blake rang me on Saturday after the prison authorities told him she'd died," Aspin told The Sun. "I just couldn't console him. He was in total shock."
Fielder-Civil -- who's serving a 32-month sentence at Leeds' Armley Jail in connection with his June conviction for burglary and firearm possession -- relayed his grief to Aspin, who went on the record with paper.
Article continues below advertisement
"I will never ever again feel the love I felt for her," Fielder-Civil said, according to Aspin. "Everybody who knew me and knew Amy knew the depth of our love. I can't believe she's dead."
Winehouse and Fielder-Civil "couldn't live with each other, and they couldn't live without each other," Aspin said. "It's hard for me knowing he still loved her, but I do understand his feelings."
Amy and Blake divorced in 2009 after a tumultuous two-year marriage.
Friends of the late singer speculated Winehouse might have intentionally overdosed, the Daily Mirror reported, after a quarrel with her boyfriend Reg Traviss when he found out she'd recently talked to Fielder-Civil.
"Reg found out Amy and Blake had been chatting and got upset," a source told The Daily Mirror. "The pair had a fight and Reg walked out. She had been drinking more and more whiskey ... and then basically decided to play Russian roulette with her life.
Article continues below advertisement
"She was upstairs injecting heroin on a self-destruct mission Friday," the source said. "The fear is she deliberately took more than usual because she was past the point of caring whether she lived or died."
The Rehab singer was found dead at her London home by pal Tyler James Saturday afternoon at 27, marking the end of her long battle with drugs and alcohol. She'd entered rehabilitation facilities on multiple occasions to battle her demons, as recently as this past May.