Amy Winehouse's Dad Blames Her Ex-Husband For Her Life Of Drug Addiction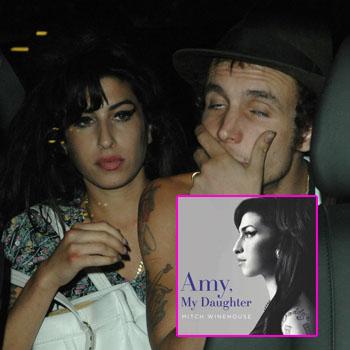 By Debbie Emery - RadarOnline.com Reporter
Never having been a fan of his daughter's wayward husband, Amy Winehouse's father reveals the depth of his hatred for Blake Fielder-Civil in a new book about her life and premature death, and RadarOnline.com has excerpts of the mourning parent's memoir.
A year after she was found dead in her apartment from an accidental alcohol overdose, Mitch Winehouse wrote Amy, My Daughter to reveal the depth of his devastating loss and the years of conflict he had with her allegedly drug addicted deadbeat spouse.
Article continues below advertisement
Amy first met Fielder-Civil in a pub in Camden, London, and from the start she was intoxicated by him, and even though she knew he had another girlfriend, she still had his name tattooed on her breast within a month.
Amy Winehouse Rants At School Bully
Mitch's first impression of Blake was a bad one when he caught him passionately kissing his 21-year-old daughter in the middle of a crowded bar, and it got even worse when he found out he did cocaine even though Amy was "dead against class-A 'chemical' drugs."
Despite dumping him because of his heroin habit and cheating ways, Winehouse was soon back with the inspiration to Back To Black – an album which her dad disliked because of that, and the pair rapidly spiraled out of control.
By 2007, she was dating him full-time and Mitch gave him a second chance, calling to him a "respectful guy, if a bit scruffy," but "I couldn't have been more wrong, he admitted. "In the light of what happened later, I'm pretty sure that Amy had started smoking heroin and crack cocaine by then, but at the time I had no idea."
Article continues below advertisement
Amy Winehouse Debuts Her Curvier Figure
When Amy was hospitalized from a seizure later that year Blake didn't even bother calling her after she had her stomach pumped, says her dad, and when he persuaded the pair to go for addiction treatment at Osea Island Blake took him aside and said: "I have no intention of getting clean, I like being a drug addict."
Mitch's relationship with Blake's mother and step-father, Georgette and Giles, was just as tumultuous and turned into an ongoing family feud that regularly landed in the tabloids.
When Fielder-Civil was arrested in November 2007 for perverting the course of justice after allegedly manipulating a witness in his upcoming assault trial, Amy was famously seen sobbing, "Baby, I love you. I'll be fine," as he was led away in handcuffs.
Amy Winehouse's Ex: Amy Stole Cocaine From Kate Moss
That night his parents barged into Mitch's house and screamed, "You grassed Blake!" and after Giles called Amy a "bitch" her dad lost it and punched him in the face in what ended up being a mass brawl.
Article continues below advertisement
Blake was soon sent to Pentonville Prison, and while Mitch hated seeing Amy so sad he hoped it meant she would finally get clean; sadly he was wrong.
The troubled marriage finally came to an end in 2009, and one of the last straws was Blake texting her dad from behind bars asking for money. "You are trying to buy your daughter's divorce. Stop hiding Amy's money. I want a contract."
After Amy's death on July 23, 2011 at age 27, Blake played the role of mourning ex from prison, telling the Sun newspaper: "I'm beyond inconsolable … my tears won't dry." He continued, "I will never ever again feel the love I felt for her. Everybody who knew me and knew Amy knew the depth of our love. I can't believe she's dead."
He reportedly next dated a teenage pre-op transsexual who worked as a Winehouse impersonator and now has a son with girlfriend, Sarah Aspin.