Girlfriend: I Let Blake Fielder-Civil Sleep With Amy Winehouse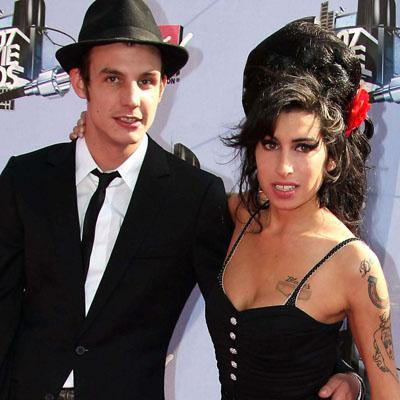 By Adam S. Levy - RadarOnline.com Staff Writer
Blake Fielder-Civil's girlfriend Sarah Aspin said she allowed Fielder-Civil to spend the night with his ex-wife Amy Winehouse because she felt sorry for the late Rehab singer.
"It was the hardest thing in the world I've ever had to do ... I was basically putting the man I loved back in the arms of his talented and rich ex-girlfriend: But I couldn't say no," Aspin told The Daily Star Wednesday of the meeting, which she says took place in 2009 at the Sheffield, England apartment she shared with Winehouse's ex.
Article continues below advertisement
Aspin said that while she was already "deeply in love" with Fielder-Civil, he'd convinced her to let him sleep with the Grammy winner, because Winehouse was in a "vulnerable" state.
She added that while Fielder-Civil did not tell Winehouse about their relationship, she was certain the singer knew what was going on. Still, despite the love triangle, the two hit it off when they'd crossed paths.
Aspin said she "was so excited to meet her, and yet aware she was really my love rival ... she was so lovely and polite and called me 'pretty girl.'"
She said Winehouse came off as "so tiny and vulnerable.
"She looked so lost ... I just wanted to hug her," Aspin, 33, said. "Though they slept in the same bed, Blake assured me they didn't do anything. The next day she left and I never saw her again."
Aspin said she doesn't regret making the sacrifice, and thinks it helped her relationship in the big picture.
"Looking back, maybe I acted a bit of a doormat, but I understand the deep feelings they had for each other and I didn't want to upset Blake or Amy," she said. "One of the reasons Blake and I have stayed together is because I've been so understanding."
Article continues below advertisement
Fielder-Civil's currently serving a 32-month sentence at Leeds' Armley Jail in connection with his June conviction for burglary and possessing an imitation firearm. He has a 10-week-old baby with Aspin.
Winehouse was found dead at just 27 at her London home July 23; her autopsy was conducted last week, and toxicology results will be available in 1-to-2 weeks.
Police called her death "unexplained," adding that speculation about a drug overdose is "inappropriate" in light of the fact that no drugs were found at Winehouse's house upon inspection.