Family & Friends Gather For Funeral Of Amy Winehouse; Singer To Be Cremated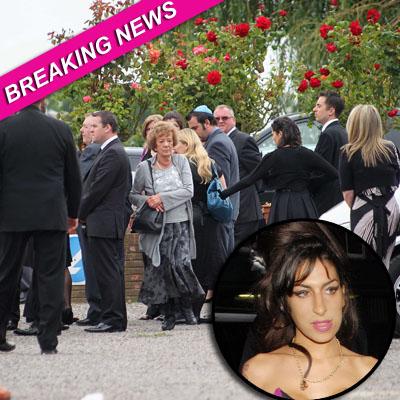 Amy Winehouse's family and close friends are gathering right now for the funeral of the late Rehab singer, and RadarOnline.com has the very first photos from the service.
Winehouse's parents, Janis and Mitch, her brother Alex are among those attending the private service at Edgewarebury Cemetery in the Golders Green area of London to mourn the retro-soul singer, whose body was found Saturday in her London home.
Article continues below advertisement
Although the service is private, a throng of media can be seen camped outside the cemetery.
Winehouse ,27, will be cremated, The Sun reported, adding that some of the singer's ashes will be scattered with those of her beloved grandmother Cynthia, who died of lung cancer five years ago.
The 5-time Grammy winning artist is said to have idolized her grandmother, and even had her name tattooed on her arm.
Officials conducted Winehouse's autopsy on Monday, but the cause of death was inconclusive; toxicology results won't be back until 2-to-4 weeks to help pinpoint what killed the talented singer at such a young age.
At this time, police say any speculation about a drug overdose is "inappropriate" in light of the fact there were no drugs were found at Winehouse's London home upon inspection.
Other notable people whose ashes were scattered at Golders Green include Dracula writer Bram Stoker and psychology icon Sigmund Freud.