David Bowie's Wife Caught Him In Bed With Mick Jagger During Gay Affair, Claims Book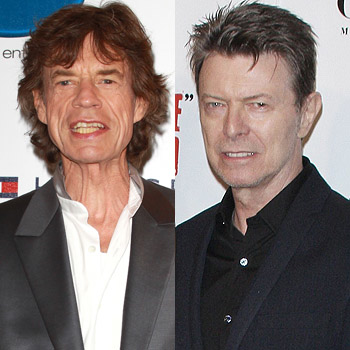 They were both known as notorious ladies' men in their time, but a new book alleges Mick Jagger and David Bowie's steamiest sexcapades were between each other!
It's long been rumored that the two rockers enjoyed an illicit affair back in the day but a controversial new biography Mick: The Wild Life and Mad Genius of Jagger, by Christopher Andersen lays it out as fact with quotes from friends and family.
Article continues below advertisement
Andersen claims the affair started in the early seventies — after meeting in 1973, Mick went backstage at one of Bowie's concerts to meet up with his new chum, and things soon turned physical.
"Bowie and Jagger were soon spotted everywhere together without their wives: sitting ringside at the Muhammad Ali - Ken Norton bout, hanging out at the London disco Tramp, yelling and stomping their approval at a Diana Ross concert, or just cuddling up together on a hotel room couch," Andersen alleges. "Neither superstar complained when one enterprising photographer snapped the two men in a moment of repose, Bowie tenderly cradling Mick's head in his lap. Bowie also took Mick to gay films."
It all came to a head though, Andersen claims, when Angie Bowie, who was married to David at the time, returned home to find the two men asleep together in her bed.
"By October 1973, the Bowies were living on Oakley Street, just a stroll from Cheyne Walk. Angie had been out of town for a few days when she returned home one morning and went straight to the kitchen to make some tea. The Bowies' maid, who had arrived about an hour earlier, approached the lady of the house with a peculiar look on her face. 'Someone,' she told Angie, 'is in your bed.'" Andersen claims in his book.
Article continues below advertisement
"Angie went upstairs to her bedroom, slowly pushed the door open, and there they were: Mick Jagger and David Bowie, naked in bed together, sleeping. Both men woke up with a start. 'Oh, hello,' said Bowie, clearly taken by surprise. 'How are you?'
"'I'm fine,' Angie replied. 'Do you want some coffee?' Mick, blinking awake, remained silent. Angie returned a few minutes later with coffee and orange juice on a tray."
MORE ON:
hollywood happenings
Andersen claims that back-up singer Ava Cherry also supported the story of their affair with her own personal account.
"Ava Cherry, a backup singer who lived with the Bowies for a time, reportedly told a friend that 'Mick and David were really sexually obsessed with each other. Even though I was in bed with them many times, I ended up just watching them have sex,'" she allegedly said.
As RadarOnline.com previously reported, Andersen also claims Jagger became obsessed with Angelina Jolie after meeting her in the late '90s.
Article continues below advertisement
Andersen claims Jagger would constantly bombard Jolie with calls begging to see her and it was all encouraged by her mother Marcheline Bertrand.
Jagger fell for Jolie when she played a stripper in one of the band's music videos in 1997 and despite being married at the time to Jonny Lee Miller and having an affair with her Playing God co-star Timothy Hutton, Bertrand tried to set her daughter up with Mick. Bertrand "loved Mick for Angie… and felt that he could teach her Angie about fame," the late actress's friend Lauren Taines says in the book.