Even Legends Get Older! Rock Stars Then And Now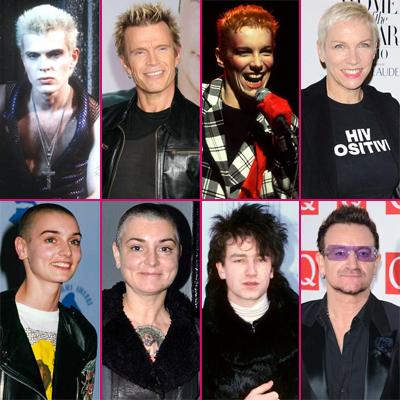 Apparently legendary rock star David Bowie was onto something when he wrote the lyrics "Oh, look out you rock n' rollers! Pretty soon now you're gonna get a little older," for his hit 1971 song Changes!
From folk singers and hard rockers to heavy metal gods, these iconic musicians are just like us --­ they get older as the years go by! RadarOnline.com has shocking photos of the most famous musicians in the world, from the prime of their fame to the present day.
Article continues below advertisement
This Irish singer got his start in Dublin, forming a band in the 1970s that would come to be one of the most successful groups of all times. Now a huge international activist, he and his band U2 are still ruling the Billboard charts.
And in the 1990s, this star tore up the Billboard charts with her hit song Nothing Compares 2 You. She also broke the heart of Red Hot Chili Peppers frontman Anthony Kiedis. She resurfaced on our RadarOnline.com in 2011, grabbing headlines for her wild antics that included very personal and shocking blogs as well as a Las Vegas quickie wedding and resulting split-up, reconciliation and split-up AGAIN!
This singer achieved worldwide rock god status with his band Aerosmith, releasing such classics as Dream On and Walk This Way. Decades later and after a recovery from drug and alcohol addiction, he is currently a judge on the family friendly American Idol and, in true rock star style, recently got engaged to a woman decades younger than him!
From Bono and Sinead O'Connor to Steven Tyler and Ozzy Osbourne, see how these stars have aged by clicking here.