Sinead O'Connor Calls Off Divorce After 'Mad Lovemaking' With Estranged Hubby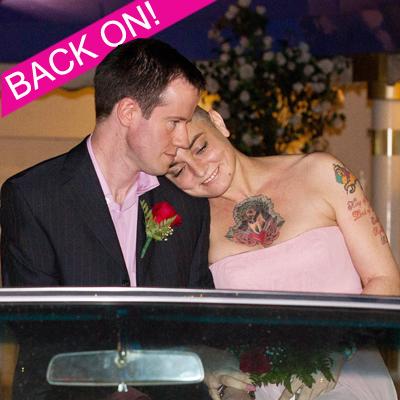 After a romp in bed, Sinead O'Connor has decided to give her marriage with Barry Herridge another try.
The Nothing Compares 2 U singer, 45, bragged on Twitter Wednesday that the estranged newlyweds have reunited after a brief break-up, apparently settling their problems between the sheets.
"Guess who had a mad lovemaking affair with her own husband last night?" the Irish singer wrote, noting that "mother----- who dont like it ...so me all happy!! me love me hubby ...he love me ...f--- who no like it ...God is good!"
Article continues below advertisement
O'Connor explained that she and Herridge, 38, will try to perfect their marriage over time, after their first try resulted in a split after just 16 days.
"Yay!!! we decided to be boyfriend and girlfriend again an stay married but we did rush so we gonna return to b friend g friend an besickenly happy an go counsellin an move in in like a yr like regular people. but stay married an we all in love an f--- every other (sic)," O'Connor wrote Wednesday.
As we previously reported, O'Connor complained she felt like she was "living in a coffin" in her marriage to Herridge, which quickly crumbled when she took the drug counselor on a hunt for marijuana in Las Vegas following their shotgun wedding December 8.
"We ended up in a cab in some place that was quite dangerous," O'Connor told the Sun. "I wasn't scared – but he's a drugs counselor. What was I thinking?"
Article continues below advertisement
O'Connor said Herridge became "very frightened" when she wound up with "a load of crack" in hand.
"That kind of messed everything up a bit, really."
She then told the Sun she'd sworn off marriage and doesn't even think she'll "date anyone" moving forward. (Hey, things change.)
The mother-of-four was past married to music producer John Reynolds in 1989, journalist Nicholas Sommerlad in 2001 and musician Steve Cooney in 2010.