Sinead O'Connor: Marriage Was Like 'A Coffin,' Estranged Hubby 'Frightened' On Vegas Drug Hunt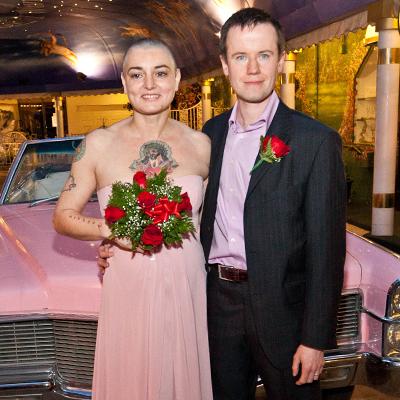 Sinead O'Connor has broken her silence about her 18-day marriage to Barry Herridge, saying she felt like she was "living in a coffin" and that their marriage quickly crumbled when she took the drug counselor on a post-wedding search for marijuana on the mean streets on Las Vegas.
The Nothing Compares 2 U singer told the UK Sun, "It felt like I was living in a coffin -- it was going to be a coffin for both of us, and I saw him crushed ... the whole reason I ended it was out of respect and love for the man."
Article continues below advertisement
The Irish vocalist said things got uncomfortable with Herridge when, following their December 8 wedding, she took him on a search for marijuana through the seedier parts of Sin City.
"We ended up in a cab in some place that was quite dangerous," O'Connor told the Sun. "I wasn't scared – but he's a drugs counselor. What was I thinking?"
O'Connor said Herridge became "very frightened" when she wound up with "a load of crack" in hand.
"That kind of messed everything up a bit, really."
The 45-year-old mother-of-four said on her website Monday that "within 3 hours of the ceremony being over, the marriage was kyboshed by the behavior of certain people in my husband's life."
O'Connor was past married to music producer John Reynolds in 1989, journalist Nicholas Sommerlad in 2001 and musician Steve Cooney in 2010.
She told the Sun she's sworn off marriage and doesn't even think she'll "date anyone" moving forward.