Sinead O'Connor's Marriage Is Over, Again!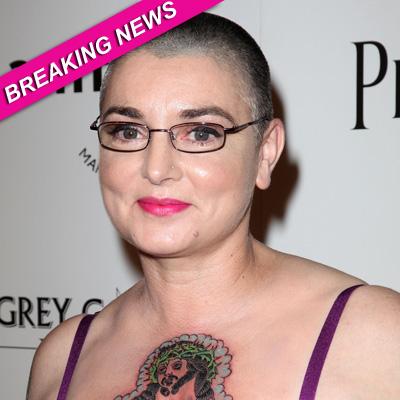 By Amber Goodhand - RadarOnline.com Reporter
Sinead O'Connor's marriage is over, again!
After her whirlwind Las Vegas wedding to Barry Herridge on December 9, Sinead announced the two were splitting after only 17 days of marriage — only to call off the breakup eight days later after what she called an intense night of "mad lovemaking."
But this time the Nothing Compares 2 U singer says it's over for good, and in a new diatribe posted on her blog the 45-year-old singer says she blames the media in Ireland for the destruction of her marriage.
Article continues below advertisement
"These people, along with others caused enormous damage deliberately and maliciously to my innocent flower of a husband, purely because he was with me. And so his association with me became something very bad for his life," Sinead wrote.
"And slowly since we were married I became very ill as result of what was done to my husband and i was unable to cope. And became depressed."
Sinead claims the constant beating in the media "consequently made the marriage untenable so that it is now over" and she's sworn off future relationships.
"I will never again associate myself romantically with anyone as I could not bear to see these things done again to someone I love," she wrote.
"Well guys.. I'm gonna be me. And if anyone doesn't like that they can seek therapy. Because I am wonderful. Exactly as I am. As Bridget Jones would say. And I shall continue being me. If being me means certain Irish media will try to destroy my romantic life."
Article continues below advertisement
Sinead also goes on to disclose that while she is on medication, she is just depressed and not bi-polar as many have speculated.
"I am now temporarily back on meds but am assured by psychiatrist I am not bi polar and do not need to be on meds for longer than a few months just to lift me out of what depths I was dragged down to since the mis-treatment of my husband and therefore destruction of our marriage began," she wrote.