Steven Tyler Dishes On New Fiancée & 2 Years Of Sobriety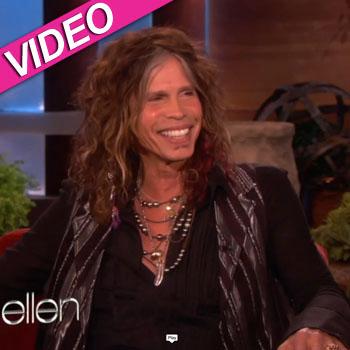 It wasn't quite love in an elevator, but it was close.
Steven Tyler, appearing on The Ellen DeGeneres Show Tuesday, dishes on the unusual exchange in which he fell in love with fiancée Erin Brady, the first time he laid eyes on her.
The 63-year-old Sweet Emotion singer told Ellen a racy story about how he forged his love with the 38-year-old beauty, who he became engaged with late last month.
Article continues below advertisement
"She worked for Clear Channel, so she was paying the band," he explained. "And I didn't notice her, and one night, she had on this hair band on around her head. She looked really old fashion ... so I took her back in the room, and she tied me up with it, and I thought 'I'm marrying this girl!' Exactly that way."
Ellen asked him, "So it's just a scarf around the head for you? That's what does it?"
"Yes, it's the imagery and how deep one can get into it," the Boston-based rocker replied.
Tyler also told Ellen he recently celebrated his second year of sobriety, after an estimated six visits to rehab.
Tyler said the rush he gets from music is akin to the rush he got using drugs in the past.
"It's euphoric recall: You hear music and you can get so high and the curtain comes down -- it's no different then doing a bump," he said. "It's the same thing and that's why it is so dangerous for me. I can't get back into that world. I can stay high on stage and stay high.
Article continues below advertisement
"Hearing the audience roar -- this is what I live for today -- but you never know if it's going to stick. I just keep with my program, wish and hope."
Tyler admitted his past battles with drugs cost him family, a marriage and a band.
"A lot of things and it's for real," he said. "That's how dangerous that is. So I take it serious."
Watch the video on RadarOnline.com
Tyler will return as a judge for the 11th season of American Idol, which premieres on Fox on Sunday, January 22. The show will air on Wednesdays and Thursdays at 8/7c.