Marianne Faithfull Is That You? Sex Siren Looks Nothing Like Former Self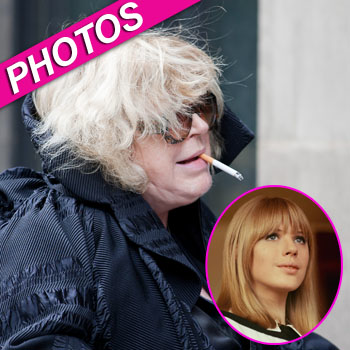 It happens to the best of us, middle age spread sets in and the glow of youth fades.
But for '60s siren Marianne Faithfull, it's all the more tragic given what a sensational beauty she once was — and RadarOnline.com has recent photos of the former sex kitten.
The 65-year-old singer and actress was pictured leaving the BBC studios in London Thursday looking a bit worse for wear.
With her graying hair unkempt and dressed all in black, Faithfull had a cigarette hanging from her mouth as she struggled to put her coat on.
Article continues below advertisement
In her hey day, Marianne had a high profile romance with Rolling Stones' lead singer Mick Jagger and battled drug abuse and anorexia.
But Marianne is a fighter having fought and won the battle against breast cancer and she announced in 2007 that she was suffering from hepatitis C.
The performer has also denied the notorious tale that Jagger was once caught indulging in a sex act with her and a Mars bar during a drugs bust, insisting it's a mere urban legend.