Oh Mickey Rourke! What Happened To The Sex Symbol?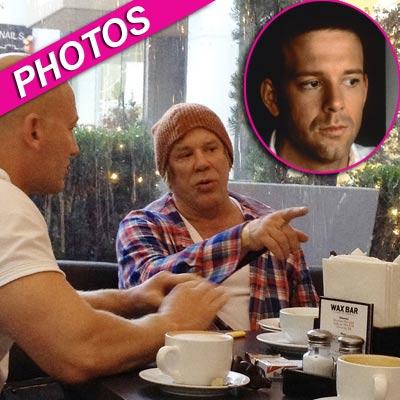 Hey Mickey, you're so fine ... or at least, you used to be.
There's no doubt Mickey Rourke's career has brilliantly recovered from years of late nights and hard living, but his looks are another story.
The 59-year-old New Yorker looked haggard grabbing a bite in Los Angeles Thursday, sporting bandages on his hand and a bruise on his lips during the casual business lunch.
The actor once made women swoon as the leading man of 1980s classics such as Diner, 9 1/2 Weeks and Angel Heart. But in recent years, Mickey's been showing his age in a bad way, likely due to the shots he took during his stints as a boxer in the 1970s and 1990s, suffering two broken noses and a smashed cheekbone in his on-again, off-again career as a pugilist.
Article continues below advertisement
He's admitted to going under the knife multiple times in hopes of fixing the damage, but says he "went to the wrong guy to put my face back together.
"Most of the plastic surgery was to mend the mess of my face because of the boxing," he conceded in 2009.
Rourke jumped back on the A-list with his Oscar-nominated turn as washed-up grappler Randy "The Ram" Robinson in 2008's The Wrestler, a part he said he didn't even want at first.
"I didn't really care for the script, but I wanted to work with director Darren Aronofsky and I kind of thought that whoever wrote the script hadn't spent as much time as I had around these kind of people, and he wouldn't have spoken the way the dude was speaking," Rourke said. "And, so Darren let me rewrite all my part and he put the periods in and crossed the Ts. So once we made that change, I was OK."
Article continues below advertisement
Real Housewife Alexis Bellino Had A Nose Job