Ashton Kutcher & Mila Kunis –It's Heating Up!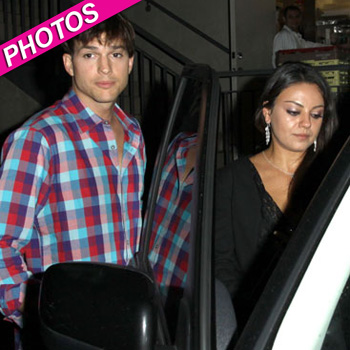 It's the summer of love for Ashton Kutcher and Mila Kunis.
The lovebirds attended the wrap party for Ashton's upcoming Steve Jobs biopic Jobs Thursday night at the Hollywood club Duplex, and RadarOnline.com has pics of the couple leaving together afterwards.
A clean-cut Ashton wore a purple plaid shirt and jeans, while Mila donned a cute black get-up.
Ashton and Mila, who were co-stars on That '70s Show for eight years, have been spotted out quite a bit lately, with a few displays of PDA, to boot.
Article continues below advertisement
"They're basically living together. Like any new couple in love, they're pretty much joined at the hip," an insider told Britain's The Sun this week. "They've been sneaking around for months, but there's only so long you can keep it quiet."
As we previously reported, the Two and a Half Men star's ex-wife Demi Moore "is devastated that Ashton has moved on so quickly and is dating Mila … she is beyond heartbroken.
"Even though Ashton cheated on her all the time, it was with random girls, it wasn't a relationship like it is with Mila and that is what is killing Demi now," a friend of the Ghost star told us. "Seeing photos of him kissing another woman is too much for her to handle, it's like having her nose rubbed in it time and time again. She kind of knew it was definitely over between them but I think she was still holding out a little hope for a reconciliation -- now he's actually dating someone else she knows that's not going to happen."