The X Factor: Britney & Demi Dish About Cute Contestants And Unexpected Challenges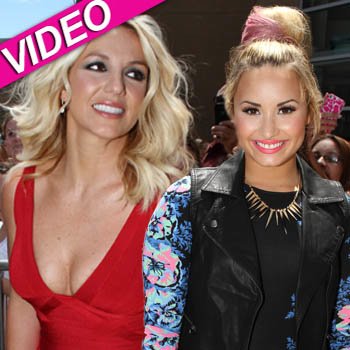 Article continues below advertisement
Asked if looks matter -- as Simon and judge L.A. Reid have both admitted to passing along cute contestants, at times -- Britney said, "I think it does help if you're handsome but for the most part, we try to boil it down to the talent, try to knock Simon and L.A. into shape."
Britney said the show has helped her learn about musical genres she wasn't previously familiar with.
"I didn't even know what is considered a good rapper," the Toxic singer said. "I don't listen to rap music, so I asked Demi, 'Is this contestant good?'"
So what has Demi learned in her first season on the show?
"I didn't think it would be this challenging, because saying 'No' to people is really hard," Demi said. "It messes with you. It's really confusing, but it is everything I expected and more, having fun, bonding with the cast.
Demi denied recent rumors she's dating One Direction's Niall Horan.
"No, I'm not," Demi said. "He's really sweet, and he's one of my really good friends now. I'm single for the moment and I plan to be for a long time, but I need to focus on my career myself and my well being before I think about getting g into a relationship."
Article continues below advertisement
Watch the video on RadarOnline.com
As for her new castmates, Demi joked, "Everyone's really great except Simon … we have fun together … he does tease me a lot, but I give it back to him, I don't mind."
Demi said she's honored to be alongside Britney in the show's second season in the states, as "We're both new and we're both adjusting."
"I grew up listening to her, so its really awesome sitting next to her on the panel," Demi said.
The X Factor returns to Fox this fall.