The X Factor Shakeup! Simon Cowell Dumps Judges Paula Abdul, Nicole Scherzinger & Host Steve Jones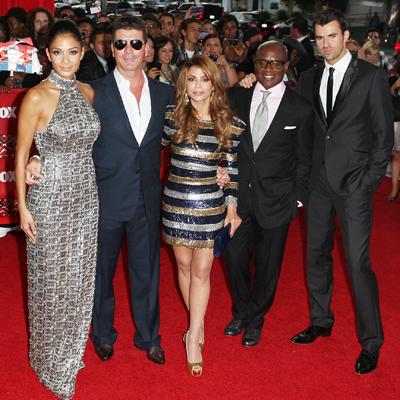 By Neil Woulfe - RadarOnline.com Senior News Director
In a stunning move, Simon Cowell has cleaned house on his Fox talent competition show -- first firing host Steve Jones and then reportedly dumping both his old pal Paula Abdul and Nicole Scherzinger as judges. At this time, it appears only Cowell and fellow judge L.A. Reid will be returning for the show's second season.
According to The Hollywood Reporter, Cowell, who created The X Factor, recently assembled the show's creative team for a top secret meeting in the UK -- home of the original, British version of the show.
Article continues below advertisement
THR says the reason for the meeting was to take a hard look at the show's first season to detail "what went wrong and what was done right on season one."
The show premiered on September 21, 2011 on Fox, and despite Cowell's assertion that it would garner huge ratings, the show fell short of expectations.
The first news that Jones would not be returning as host came late Monday afternoon. In fact, the Brit -- who never seemed to connect with the U.S. audience -- took to Twitter to confirm the news, writing: "I won't be hosting next season Xfactor which is a shame but I cant complain as I've had a great time," Steve tweeted on Monday afternoon. "Good luck to everyone on the show."
THR says that Cowell did not personally make the call to Jones; instead, he left it to a show producer.
Shortly thereafter came the news that Nicole Scherzinger -- best known as a former member of the Pussycat Dolls and for winning Dancing with the Stars in May, 2010 -- was also leaving the show.
In an apparent case of classic Hollywood spin, E! reports that a source close to Scherzinger -- who's currently rehearsing for her upcoming European tour -- claims it was her decision to leave the show.
Article continues below advertisement
"She wants to focus on her music career," a source told E!. "She's spoken to Simon Cowell and he's given her his blessing."
Scherzinger had a rocky time on the show from the get-go. She was brought in to replace British pop star Cheryl Cole and she often clashed with Cowell on-camera, who would openly mock her feedback to the contestants. Scherzinger also received stinging criticism from viewers who were upset when, prodded by advice from Abdul, left it to America to decide the fate of 13-year-old singing sensational Rachel Crow, who was then voted off the show.
The Hollywood Reporter also says its sources indicated Paula Abdul was out -- a particular surprise given that Cowell personally hired the Straight Up singer for The X Factor and helped resurrect her career that stumbled after she left American Idol.
While Fox has confirmed the departures of Jones and Scherizinger, official word on Abdul has yet to come.
There are reports that Cowell wants bigger name judges for his show, ala NBC's The Voice, as a way to boost ratings. The Voice returns on February 6 with judges Christina Aguilera, Cee Lo Green, Adam Levine, and Blake Shelton.
Article continues below advertisement
The X Factor hopes to have its new host and judges in place by April, according to thewrap.com.
While news of shakeup has shocked Hollywood, American Idol's producer Nigel Lythgoe was also taken off guard by the news, tweeting, "Shocked to see Simon has fired Paula Abdul, Nicole and Steve from the X-Factor."
The X Factor is currently auditioning new acts for the show's second season, which is set to premiere in the fall on Fox.