Exclusive
They're No Housewives! Toddlers & Tiaras Stars Aren't Paid A Penny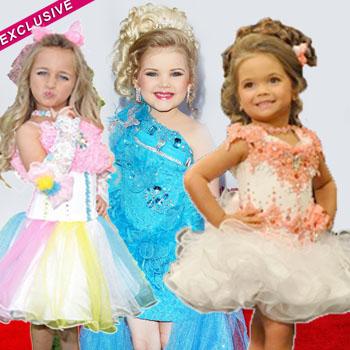 Article continues below advertisement
"Toddlers & Tiaras does not pay their kids. They survive off of finding unique stories that draw in viewers," an insider exclusively revealed.
"They don't even pay for the families' entry fees into the pageants. But the moms do it because it's good exposure for their little girls and that's exactly what they want."
According to the insider, many of the show's hottest little sensations -- like Eden Wood -- left the show so they could pursue other independent ventures that would make them money.
"You will always have moms looking to make their kid the next Eden Wood, so you have to give TLC props for this," the insider said.
"They can cast their entire season without paying a talent fee. It is brilliant."
RadarOnline.com was first to exclusively publish the salaries of some of TV's hottest reality stars, and jaws dropped when it was exposed that Teen Mom's Jenelle Evans makes $75,000 per season, Jersey Shore's Snooki, The Situation and Pauly D are all paid a whopping $150,000 per episode and The Real Housewives of Orange County's Vicki Gunvalson brings in a cool $450, 000 per season.