Exclusive
What Do Teen Mom Stars Earn?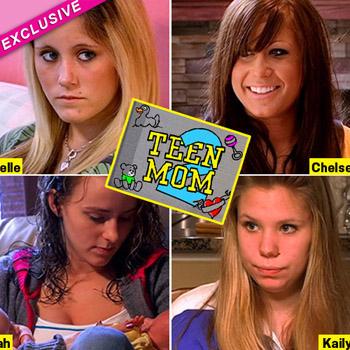 We've got a look inside the pockets of the stars of the Teen Mom franchise, as our friends at Star magazine has uncovered how much they really make, and other perks of the MTV life.
Looking at the moms of Teen Mom 2 -- Jenelle Evans, Catelynn Lowell, Kail Lowry and Leah Messer -- comes as a mixed bag, or should we say pocketbook, as the young parents each have varied situations.
On the high side, "Jenelle gets paid $75,000 a year and her mom gets paid $65,000: she calls her an overpaid babysitter," a source tells Star of the unemployed reality star. "She also gets a lot of gift cards to places like The Olive Garden from MTV as a bonus payment."
Article continues below advertisement
Catelynn, a source says, has made enough to provide for some of life's little accruements, though does not seem to be breaking the bank with her MTV proceeds.
"Catelynn Lowell and (baby daddy) Tyler Baltierra have enough money to buy both of their mom's cars," a source says, "and Tyler paid for his sister to get a boob job."
As for Leah Messer -- who worked as a dental assistant during the season -- a source says she "believes she could make $20,000 from her wedding," and "makes the most of all the girls in Teen Mom 2 because she held out the longest on her contract."
Kail Lowry, the source says, is "the only Teen Mom who actually still has a job" at the local Best Buy.
"All the others did it for show."
FIRST PHOTO: Teen Mom Jenelle Evans In Rehab
As for some of the earlier Teen Mom stars, Maci Bookout, who was in school at the time of the show, "was able to buy a house with her profits," the source said.
One sticking point among the Teen Moms?
"The teen dads make a lot of money … the Teen Moms think it's ridiculous because they don't have to film nearly as much or do as much work," the insider said.