Pregnant Snooki Falls In High Heels!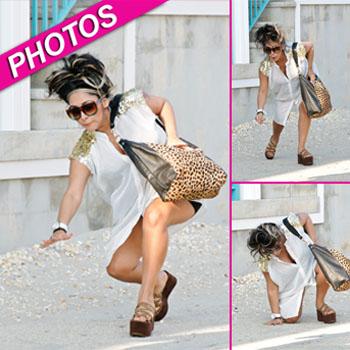 Article continues below advertisement
The pint sized MTV star was showing off her baby bump in full Jersey costume -- leopard print shoes, bag and a gold sequins dress -- when she tumbled to the ground in the dangerous shoes.
The 24-year-old mom-to-be recently said that she probably isn't going to go back to her partying ways once her little one arrives.
"I think that'd be very trashy if I did that," the Jersey Shore star told Access Hollywood.
"When you have a baby, it changes your entire life and of course I'm going to go out some nights and go out with my girls and have drinks, but, you know, your baby is your life now and I'm excited to be a mom!"
Much like Jessica Simpson, who fought it until the last minute but ultimately had to give up her heels during her pregnancy, it may be time for Snooki to ditch her high heels and start wearing flip flops.