Snooki Dishes On Pregnancy, Says Breastfeeding 'Looks So Painful'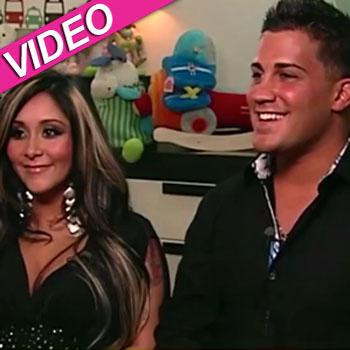 No booze, no tanners, no hair coloring, no caffeine: this is not the Snooki you've come to know and love.
Nonetheless, the Jersey Shore star showed she's matured plenty in her sit-down with Good Morning America Monday, to spill the details of her current pregnancy.
Snooki, appearing alongside her fiance, Jionni LaValle, said she's not keen on the new trend of attachment parenting… or breastfeeding, for that matter.
Article continues below advertisement
"It just looks so painful," said the pregnant reality star, "but I definitely want to pump, because it has the best nutrients for your baby."
The 24-year-old Marlboro, New York native, whose real name is Nicole Polizzi, said she hasn't boozed it up since learning she's expecting.
"I don't like to be around people that drink, because then I'll miss it," she explained.
Jionni gave an example of how he's embraced his newfound identity as a family man.
"Last year it was, 'Let's go to Vegas' … now, we're going to Disney with the family," Jionni said.
Watch the video on RadarOnline.com
Asked how she will explain some of her more raucous behavior on the MTV hit -- including a fair share of drinking, cursing and "smooshing" -- Snooki said, "I'm just gonna tell my kids … I'm just gonna show them myself and say, 'This is what mommy did, learn from her mistakes.'
Article continues below advertisement