Snooki Tells JWOWW: 'Life Threw Me A Spermball' In Spin-Off Premiere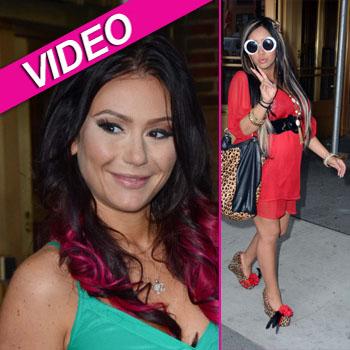 MTV's Jersey Shore spin-off Snooki & JWOWW premiered Thursday night, featuring the mother show's leading ladies coming of age off the shore, and into a Jersey City apartment that was converted from a firehouse.
The 12-episode series started off with a bang, with Nicole "Snooki" Polizzi -- who's set to give birth to a boy with fiancé Jionni Lavalle later this summer -- informing Jenni "JWOWW" Farley of her engagement and impending motherhood.
Article continues below advertisement
"Jionni proposed and I'm engaged -- swear!" Snooki told JWOWW, brandishing her engagement ring as proof of the life development.
JWOWW, 26, said, "No, you're not -- you would've told me!"
Snooki told a stunned JWOWW the reason behind the engagement "is because I'm pregnant."
"Instead of life throwing me a curveball," Snooki, 24, said, "it threw me a spermball ... obviously.
"Honestly, I really didn't know I could make a baby."
You might not see the same level of anger, drama and theatrics that's made Jersey Shore must-watch reality TV, as Snooki and JWOWW seem to be on the same page more than not.
Snooki "can lift my spirit with the drop of a hat," JWOWW said, while Snooki pledged, "I will always be there for Jenni, no matter what."
The spin-off also will take a closer look at JWOWW's increasingly-serious relationship with her boyfriend Roger.