Snooki Rips Into The Situation After He Tells Her Fiancé They Hooked Up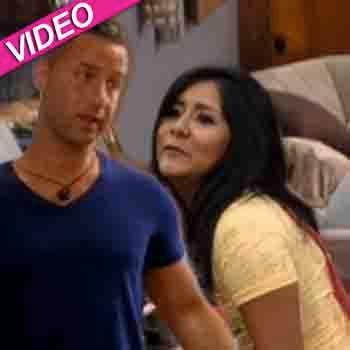 Article continues below advertisement
"I think you're a good ass kid," The Sitch says. "I can't look you in the face and not let you know, as a man."
Then he drops the bombshell on him. "I don't know if you heard the rumors…I want to tell you as a man, we did hook up."
Playing it cool, Jionni thanks him, shakes his hand and immediately tells Snooki, who is furious with her roommate.
When the two see each other next the fight begins with pre-pregnancy Snooki dropping the f-bomb first.
"You just told my boyfriend we hooked up a month before Italy. Are you crazy?" she yells at Mike.
"Now there's nothing to hide," he says.
"There was never anything to hide, psycho!" Snooki screams.
After the Situation says he thinks this will all be over some time soon and they'll be friends again, Snooki really rips into him: "I want you to go and f****** die and rot in a hole!"
You can watch the video here on RadarOnline.com.