Snooki & JWoww Talk About The Situation's Sexuality; Snooki Admits She's Bisexual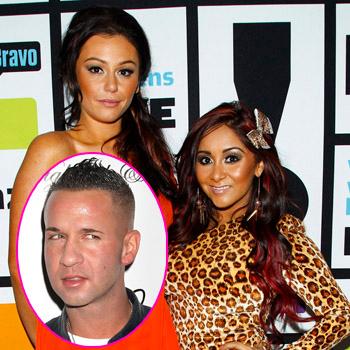 Article continues below advertisement
"His posture and the way he holds his cigarettes... everything. Listen, I know I keep talking about my best friend Joey, but his husband was closeted for 27 years of his life. And I knew him before he came out. So because of that I know... the signs," JWoww said.
"The Situation brings it up. He'll say, 'People think I'm gay and I don't know what they're talking about… I can't confirm or deny with Mike, but if he was, it would all make sense."
Snooki chimed in: "He told me one time, 'All the talk is making me wonder.'"
But Snooki doesn't wonder about her own sexuality. The pint-size reality star is happy with her boyfriend Jionni LaValle, but admits to getting frisky between the sheets with women.
"I would consider myself bi. I've done stuff with girls before," she said.
"But I would never be with a girl because I like... penis. But I've experimented."
Article continues below advertisement