Jersey Shore Season 5: Meet Snooki's Antagonist, The Unit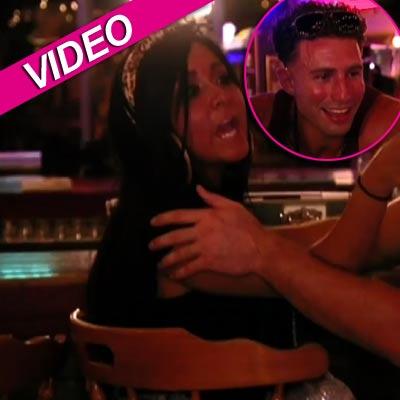 The fifth season of Jersey Shore started off with a bang Thursday, as the lingering tension between Snooki and The Situation -- over a hook-up he swears to and she denies -- explodes in a confrontation between the pint-sized starlet and his brash new sidekick, "The Unit."
The episode unfolds as the cast returns from Florence, Italy, only to -- What else?!? -- celebrate their homecoming at a Seaside Heights bar. Everyone is there: friends and family, including Snooki's serious boyfriend Jionni LaValle, who's still clueless to the whispers that his gal pal hooked up with The Sitch. (He actually buys him drinks all night.)
Article continues below advertisement
A brazen bodybuilder, The Unit's comparable to The Situation, minus the good manners: When Jionni takes a bathroom break, he immediately lays into Snooki about how he witnessed she and The Situation hooking up -- and won't hesitate to tell him.
"This is the perfect storm," The Situation bragged in an off-camera interview. "Now the witnesses are here. It's only a matter of time before the truth comes out!"
When The Unit begins running his mouth at the poufy-haired superstar, it results in a clash that had MTV censors working overtime.
"If you didn't have Mike you'd be a f--kin loser, you f---ing idiot!" Snooki yelled at The Unit. "Unit? Your name's Unit you f--king moron!"
The Unit didn't hold back in his debut on the show, egging Snooki's anger on, catcalling her with chants of "I got you girl!" though things settled down -- for now -- after that.
Article continues below advertisement
Elsewhere, we saw Pauly D hook up with Snooki's pal, to Deena's dismay; and Vinny saying he's "in a funk," homesick after the Italy trip and seeing his family upon his return.
Watch the video on RadarOnline.com
Quick background on The Unit: The 32-year-old trainer, whose real name is Jonathan Manfre, is The Situation's childhood pal who helped him produce his workout DVD.
Jersey Shore premieres Thursday on MTV at 10/9c.