Jersey Shore Cast Invades Late Night; Vinny Leaves Show In Season 5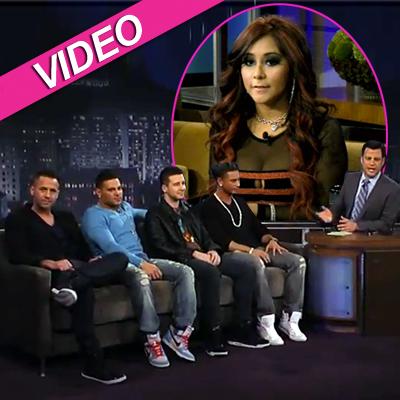 With the fifth season of Jersey Shore kicking off Thursday, the show's stars dotted the late night constellation Tuesday, teasing with tidbits about the upcoming episodes, an incoming cast member, possible spin-offs and the departure of a Seaside Heights mainstay.
Snooki, appearing on The Tonight Show, confirmed that Vinny Guadagnino, the cast's most down-to-earth personality, will leave at some point this season.
Article continues below advertisement
She said the hustle and bustle of fast-paced reality TV life catches up to him -- as it does to her, at times.
"Honestly, we all get homesick sometimes: The cameras are too much for us. It's like, 'Oh my God, go away!'" she said, admitting she's thought of packing her bags more than once.
"I want to leave every day but I don't! I just want to relax and do this, but Jersey Shore is amazing," she said. "I love my roommates. I love hanging out with them."
Snooki said that this season, we'll see a new personality called The Unit, a chiseled pal of The Situation's.
So how did he get his nickname?
"The unit ... well just think, he's packing, his unit," Snooki explained, adding she's "not very fond of him."
Before her segment ended, the Marlboro, New York beauty demonstrated her Snookify Me app -- which gives its subjects Snooki-esque makeovers -- on host Jay Leno and fellow guest Whitney Cummings.
Article continues below advertisement
Watch the video on RadarOnline.com
Across town, Jimmy Kimmel welcomed "The Four Horseman of the Cultural Apocalypse" -- i.e., The Situation, Pauly D, Ronnie and Vinny, who opened up about his exit from the MTV smash.
"It got real for me for a little bit and I had to take care of myself," Vinny said, noting severe difficulties balancing his life and the show's demanding schedule. "But you'll see -- a good thing ends up coming out of it."
The Situation chimed in: "It was a big shock to us ... he was like the voice of reason in the house."
Pauly D got sentimental about his close pal moving out, saying, "You don't know what you've got till its gone."
Kimmel asked the fellas about their career plans beyond the mother-ship show, and Pauly D said he's starring in his own spin-off chronicling his career as a DJ, while The Sitch implied he's got something cooking as well.
Article continues below advertisement
"Everybody's got their own things going on," he said. "I don't know if we're allowed to discuss everything."
Fun fact: In addition to Vinny, cast members Sammi Sweetheart and Angelina Pivarnick have moved out of the house before; Angelina was replaced by Deena Cortese in the show's third season.
The fifth season of Jersey Shore premieres Thursday on MTV at 10/9c.