Exclusive
Paris Hilton Victim Visits Hospital For Attack Injuries, Plans On Filing Police Report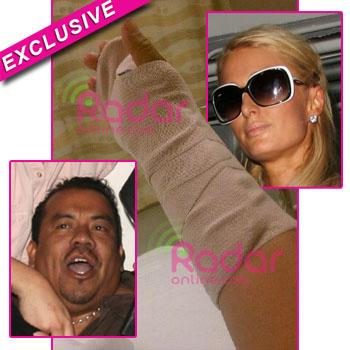 Article continues below advertisement
In an exclusive photo obtained by RadarOnline.com, Billy's arm is seen splinted and wrapped up in a bandage while he lay on a hospital bed on Wednesday night.
Billy sustained injuries to his arm, wrist, neck and head, and he plans on filing a police report on Thursday.
"It was 3:30 in the morning, the party was over, and I was just walking through the parking lot to go to the bathroom when I see Paris, so I turned on my camera," Billy told us on Wednesday.