Exclusive
Holmes' Parents Sad Marriage Ended, But Relieved To Have The 'Old Katie' Back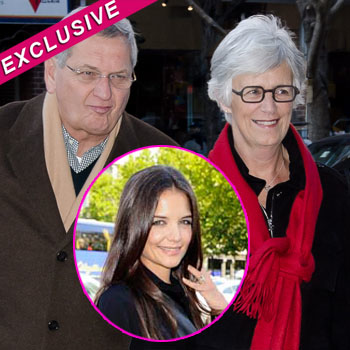 Katie Holmes' parents have mixed emotions about the end of their daughter's marriage to Tom Cruise, RadarOnline.com is exclusively reporting.
A source close to the Holmes' family says Martin and Kathleen Holmes are "sad" that their youngest child is having to go through a divorce, but that they are also relieved to have the "old Katie" back again.
"Obviously, Martin and Kathleen are sad that Katie is having to go through all this emotional turmoil and that she is going to be a single parent, but it's not like she is going to have to go it alone and she certainly won't have any financial hardship to worry about.
Article continues below advertisement
"Both Martin and Kathleen had very strong reservations about Katie marrying Tom, but she was an adult and they obviously couldn't stop her from following her heart. It's been tough for them over the past five years to watch Katie be controlled by Tom and they really felt that they had lost their daughter to some extent.
"So, that's the one bright side to the divorce — they feel like they're getting the old Katie back again, the strong, independent willful Katie that had all but disappeared since marrying Tom.
"Their real concern right now though is Suri. She is still trying to understand exactly what is going on and she is obviously picking up on her mom's emotions at this time and playing up to a degree.
"Katie's mom and dad are providing as much love and support as they can to their daughter and their granddaughter and are trying to make it as easy a transition as possible. And, one thing is for sure, Martin is going to do everything in his power to make sure his daughter gets everything she wants from the divorce. He is NOT going to allow her to be bamboozled and bullied anymore."