Kate Gosselin Runs Half Marathon – With Her Bodyguard Watching!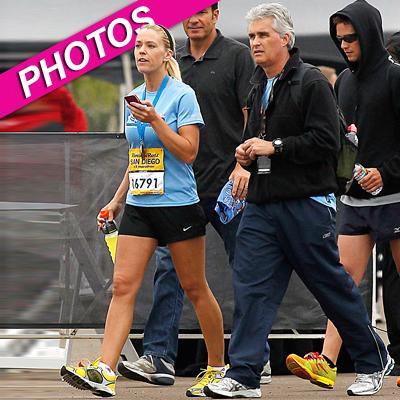 RadarOnline.com Entertainment Editor
Kate Gosselin completed 13.1 miles of a grueling run in San Diego on Sunday, but she had one very noticeable accessory - her trusty bodyguard Steve Neild by her side!
The former reality show star ran in the Rock 'N Roll Half Marathon in a light blue shirt and black short shorts that showed off her toned legs, and Steve was there guarding her the whole time.
Article continues below advertisement
Kate Plus 8 hasn't been on the air since being cancelled in August 2011 and her popularity has plummeted lately, but the 37-year-old has traveled frequently with the silver haired handsome bodyguard, raising eyebrows about their relationship, and even got in a Twitter fight with a reporter who called him her boyfriend after spotting the two getting cozy with each other.
Kate has changed Steve's working title from bodyguard to road manager. He fulfilled his duties by walking with her during the race, handing Kate her ever present cell phone and making sure she was guarded over the entire time.