Kate Gosselin: The Kids 'Really, Honestly Miss Filming' Reality Show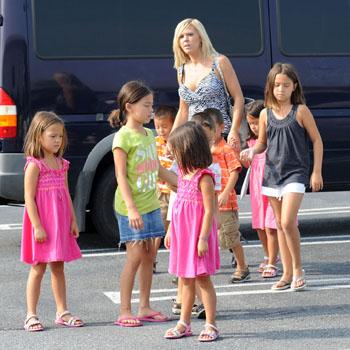 Apparently the Gosselin kids are ready for their close-up again!
After taking a hiatus from reality television, Kate and Jon Gosselin's brood of eight are anxious to get back on television, Kate admitted to the TODAY Show's Ann Curry on Monday morning in a revealing interview – and RadarOnline.com has the details.
"They really, honestly miss filming," Kate told the morning talk show host about her kids, who just turned eight. "They've recently been saying, 'when are we going to go here or there?' They miss the crew."
Article continues below advertisement
Kate admits that the kids may be in luck, because there may be something in the works.
"We're hoping to move forward and do more fun projects. Fans are begging."
Since the follow-up to Jon and Kate Plus 8, Kate Plus 8, was cancelled in August 2011, the kids have been focusing on school, while their mom has been blogging for the Coupon Cabin.
"Everybody is excelling in school across the board. It's amazing. Totally doing amazingly well. We've had a great school year. They love school," Kate said.