Happy Birthday! Jon & Kate Gosselin's Sextuplets Turn 8!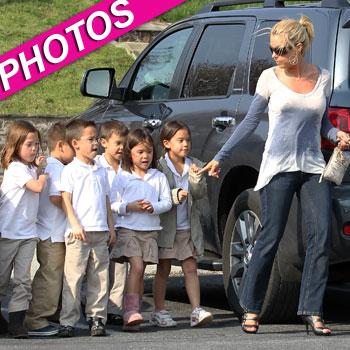 Radar Entertainment Editor
Happy birthday to the Gosselin sextuplets!
Kate and Jon Gosselin's six youngest children turn eight Thursday, and RadarOnline.com has a photo gallery of the little cuties over the years.
Alexis, Hannah, Aaden, Collin, Leah and Joel were born on May 10, 2004 in Pennsylvania and joined their older sisters, twins Cara and Maddy.
Kate conceived the children via in-vitro, and they were born premature and spent time in the hospital before returning home.
Article continues below advertisement
The Gosselin children appeared on television for the first time on the Discovery channel special Surviving Sextuplets and Twins in 2005 and became reality stars with their parents on TLC's Jon & Kate Plus 8.
Their every movement was filmed for years, showing the children growing up, traveling, and all the ups and downs of a family with eight children.
However, their parents' very nasty public divorce after their father Jon was caught cheating on their mother caused him to be ousted from the show, and it was renamed Kate Plus 8, before being pulled off the air in 2011.