Exclusive
All Grown Up! E.T.'s Henry Thomas On How He Avoided The Perils Of Child Stardom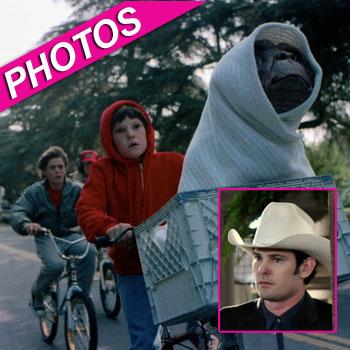 Article continues below advertisement
"It's nice because over the years the attitude in people who recognize you changes. It was invasive when I was a kid, but now it's much more polite," he explained. "It is so unimportant that it doesn't interrupt your day anymore because they've filed you under '1982' and moved on."
Currently starring as Hank Williams in musical biopic The Last Ride, Henry was just 9-years-old when he won the role in E.T. the movie that would catapult him to global fame and make him familiar face from Los Angeles to London, but unlike child stars such as Corey Haim, River Phoenix or Brad Renfro, he managed to avoid the addictive pitfalls of fame.
"We lived in South Texas, so I didn't grow up in Hollywood or Los Angeles, and my family weren't in the industry and that helped a lot," Thomas told RadarOnline.com.
"If your life revolves around the business then it is much more accessible. I'm sure if I was a teen or in my 20s and had a bunch of friends and running round and going out then I would have done the same thing that a lot of these young guys and girls did," he revealed.
Article continues below advertisement
"I was never really interested in hanging out in that scene, I did it from time to time but only as a tourist."
One victim who did succumb to the temptations of Hollywood was Thomas' younger co-star, Drew Barrymore, who is renowned for smoking marijuana at 11 and snorting cocaine by the age of 13.
"It upset me when she had problems because she was so young, I saw it on the news, and my mom cried out 'Poor Drew, oh my God!' but I didn't really relate to what was going on as I was so far removed."
The pair will always be intrinsically tied together after playing siblings Elliot and Gertie in E.T., but Henry said they don't keep in touch anymore. "She moves in a very different social set than I do. A film in 1982 is all we have in common," he explained.
"A lot of young people experiment and get into trouble, I think everyone makes such a big deal about that and get wrapped up in the 'Child stars gone wrong' scandals, but it happens all over, teenagers experiment with drink and drugs everywhere -- not just in Hollywood.
Article continues below advertisement
"I think the industry has changed so much from when I was a kid and working, it's understood now that cocaine was prevalent in the film industry in the 80s. I think back to when I was a kid and realize now that a lot of crews I worked with were just fueled by coke but at the time I was oblivious."
Thomas' latest film tells the true story of musical icon Hank Williams, who ironically was a victim of indulgence which ultimately led to his premature death at age 29 on January 1, 1953 after hiring college student, Charles Carr, to drive him to a concert.
"He was notorious for his public drunkenness, but when you talk about his drug use people's opinions gets divided," explained the actor, who plays the legendary country singer in The Last Ride.
"It was a hard role to pass up as an actor as he is such an iconic figure. I was thankful because I wasn't doing an impersonation of the guy, as I was playing him in context of the film, which is a fictitious account of the last few days of his life," he added.