Stephen Moyer Freaked Out By 6-Year-Old True Blood Fans!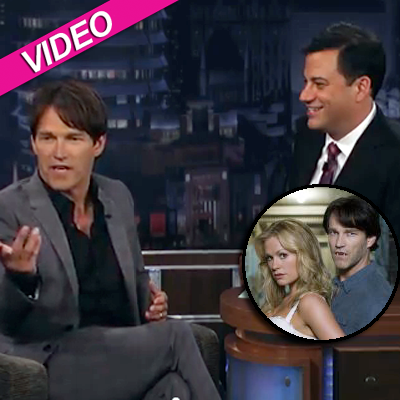 By Adam S. Levy - RadarOnline.com Staff Writer
Stephen Moyer, who plays vampire Bill Compton on HBO's True Blood, sat down with Jimmy Kimmel Thursday night for an entertaining chat about his working class beginnings, the sexy show that made him a star and the fan base you wouldn't think he has.
Moyer told Kimmel he's from a town in Essex, England named Brentwood, which served as the namesake for the posh Los Angeles suburb perhaps best known for being O.J. Simpson's former hometown.
Article continues below advertisement
Moyer, 41, said the English Brentwood is a tough, blue collar town and "actually the home of the British version of Jersey Shore."
"That's not good, right?" Kimmel joked. "Are people spray-tanned orange there?"
Moyer said locals in the English Brentwood are big fans of tanning beds, with no regard to the long-term effects it has on one's skin.
"So, there's a lot of nudity and a lot of sex on the show for those who haven't seen it," Kimmel said.
"Just like at home!" joked Moyer, who's married to his True Blood co-star, Anna Paquin. "I'm gonna get in trouble."
Watch the video on RadarOnline.com
Moyer, said his two children, ages 9 and 11, are "too young to watch the show," but he's noticed that not all parents take the same tack in their vampire viewing habits, as he's often approached by parents looking to have their kids pictures taken with him.
Article continues below advertisement
"And they wheel out like, a 6-year-old!" Moyer said, noting the kids know exactly who he is, telling him "You're Bill Compton," while the parents reassure him they "fast forward through the bad" scenes.
PHOTO: True Blood Stars Get Nakes For Rolling Stone Cover
Kimmel joked Moyer ought to "walk around Child Protective Services, just taking people into custody."
True Blood airs Sundays night at 9 pm on HBO.