Cowboys & Aliens Beauty Olivia Wilde Haunted By Jonas Brothers!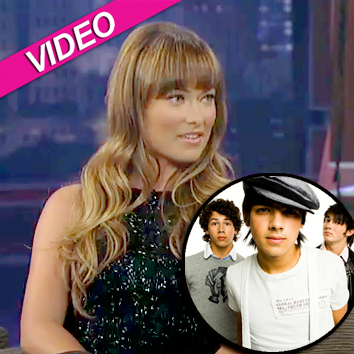 Gorgeous Olivia Wilde told Jimmy Kimmel Wednesday that her Los Angeles house is haunted by its' previous tenants: the Jonas Brothers!
The New York native, who divides her time between both coasts to accommodate her bustling career, said that the teen idols even left a parting gift in the garage: life-size cardboard cutouts of each of them!
"I didn't even have to pay extra," Wilde, 27, said. "Sometimes I wake up, and my roommate has placed one standing over me."
Article continues below advertisement
"Is it comforting knowing there's a cardboard virgin watching over you at all times?" Kimmel asked.
"Yes, it is comforting ... we blame the Jonas Brothers for the lack of action in our house ... it's the 'No sex hex!'"
"You should invite me over," Kimmel joked.
Watch the video on RadarOnline.com
"You could break the hex?" Wilde said.
"You'll never know they were there!" he said.
Cowboys & Aliens opens in theaters on Friday.