Exclusive
Why The Delay? Demi Moore & Ashton Kutcher Still Haven't Filed For Divorce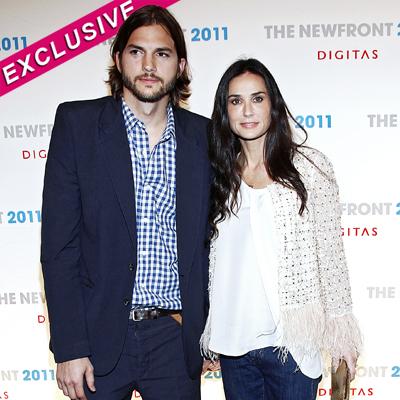 Demi Moore announced that she was splitting from her husband Ashton Kutcher last November following his very public cheating scandal but neither has filed divorce papers to formally end the union and RadarOnline.com has exclusively learned that people close to the former couple are speculating about the REAL reason they haven't done so yet.
"There has been speculation for a while that Demi and Ashton were never actually legally married and that's why they haven't filed divorce papers yet," a source exclusively tells Radaronline.com.
Article continues below advertisement
"Some people think that they were just married in a symbolic Kabbalah ceremony and that they never actually filed the paperwork to make it legal," the source explains.
As Radaronline.com previously reported, Demi and Ashton had a reconciliation at Rabbi Berg's birthday party in May.
An eyewitness said their reunion was an emotional one, with the couple "locked in a 60-second embrace," at one point.
However, even though they were friendly to each other at the party, there are apparently no plans for a reconciliation.
Ashton has reportedly hired famed divorce attorney Laura Wasser, but neither he nor Demi have filed papers yet to formally dissolve their six-year marriage.
"It is strange that they haven't filed their papers yet," the source says. "Demi was adamant about splitting with Ashton and everyone thought it would happen at the end of the year. Then when she went into rehab no one expected her to file. But now that she's out and doing better some people around her are surprised that she hasn't taken steps to end the marriage. They're wondering if the reason they haven't filed divorce papers is because there aren't any to file.