Exclusive
Inside Christian Bale's Vicious Rants And 'Verbal Explosions' Against His Family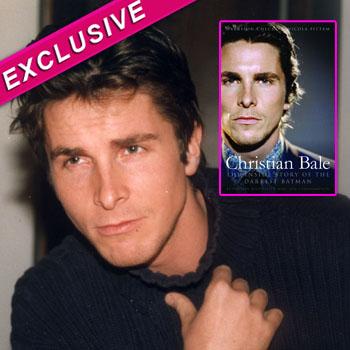 Article continues below advertisement
After being catapulted into the spotlight in Steven Spielberg's World War II drama Empire of The Sun, Bale felt torn between his mother, who wanted him to go back to school in England, and his father who pushed him to be a child star.
The pressure became too much for Bale, who began exploding like a pressure cooker on both his parents. "He got bad tempered when he found out how much his father kept from him, especially anything to do with finances and immigration," said Cheung. "He would suddenly find out that he was out of money or didn't have the right visa to work, it would drive him bananas.
"Christian felt like he was being treated like a child and would just lose it. His dad's biggest worry was that he would get a bad industry reputation and no one would want to work with him, David (Bale) would have to act like a cooling rod in a reactor and keep things calm a lot of the time."
It has been nine years since Cheung last saw his closest friend and business partner and he is now revealing the sinister depths of the British actor's temperament in a new biography titled, Christian Bale: The Inside Story of the Darkest Batman.
Article continues below advertisement
"He definitely changed over the 10 years that I was close to him," revealed Harrison. "When I first met him, Christian was a painfully polite English kid, but after American Psycho I saw a lot more of his temper, and witnessed some really bad exchanges with him and his mom.
"I never saw him physically violent, just swiftly verbally shut down people," he explained.
While he had already parted ways with the actor five years earlier, Cheung wasn't surprised to hear about the alleged assault by Bale on his mother, Jenny, and sister, Sharon, at the Dark Knight premiere in London in July 2008. "They reported him to the police but I don't think they wanted him arrested, they just hoped he would get help."
It took a viral video of the Welsh-born actor's on-set meltdown against a director of photography while filming Terminator: Salvation a year later for the world to realize exactly how cruel Christian could be.
"He made 38 F-bombs in 3 minutes," commented Cheung. "The press and the fans had assumed his family were gold diggers but then the leak came out you had proof that this is what he sounded like when he lost his temper. None of it surprised me, that kind of rant was the story of our lives for many years."
Article continues below advertisement
Eventually living at the whim of such a volatile temper became too much, and Harrison literally bailed out on Bale before he got dragged down into his dark abyss.
"I was traumatized and very upset when we stopped working together. I thought of him like a kid brother, but when none of our plans for the future panned out I felt like it had been wasted."
Christian Bale: The Inside Story of the Darkest Batman is available on Amazon.com for $15.95.