Christian Bale Gets Roughed Up In China While Visiting Activist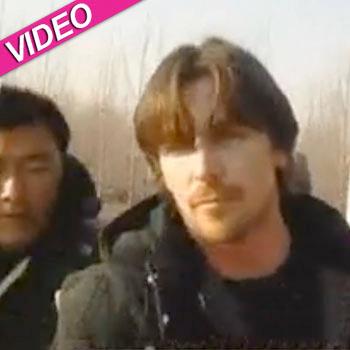 By Debbie Emery - Radar Reporter
Short-tempered actor Christian Bale is no stranger to aggressive stand-offs but the latest violent incident he was involved in stemmed from his desire to support a Chinese activist, not an angry rant.
The Fighter star is currently in China for the premiere of his upcoming movie, The Flowers Of War, and while there he decided to make a special trip to meet a human rights activist, Chen Guangcheng, but the visit went awry when he and his CNN film crew got pushed around by the local police.
Article continues below advertisement
It took Bale eight hours to drive from Bejing to the tiny village in Eastern China where the blind 40-year-old self-taught lawyer has been held under house arrest for the past 15 months.
When he arrived, the Oscar winner and his colleagues got a frosty greeting as they approached the village, reported CNN.com.
"Go away," a plain-clothed guard shouted, as they pushed the crew back from the checkpoint.
When the action star asked, "Why can I not visit this man?" he was shoved violently by the dozen guards in olive green military coats who appeared on the scene.
Shaky film footage shot by CNN shows the officials bustling the actor and his fellow reporter, who both strongly stand their ground against the bullying.
"They're pushing Christian here and we're just trying to leave peacefully," said CNN newsman Steven Jiang.
Article continues below advertisement
The film crew retreated but their aggressors took chase in a mini-van, as the British actor filmed it with a flip cam.
"I'm not being brave doing this," he explained. "The local people are standing up to the authorities and going to visit Chen, and being beaten up for it and detained for it."
Chen's imprisonment stems from his campaign against forced abortions and the treatment of villagers in China. In 2006, he was sentenced to more than four years in prison for disrupting traffic and damaging property.
Since his release last year he has not been allowed to leave his house and police have the property and the village in lock-down.
"This doesn't come naturally to me but this was just a situation where I thought, 'I can't look the other way,'" the Dark Knight star explained.
"What I really wanted to do is shake the man's hand and say thank you, tell him what an inspiration he is."
Bale's upcoming film, about the Nanjing Massacre in the 1930s in which Japanese troops killed tens of thousands of Chinese civilians, makes him one of the first big Hollywood stars to play in a Chinese film and promote it.