Driver Allegedy Hit Boy Then Reversed Back Over To Make Sure He Was Dead, To Save On Medical Bills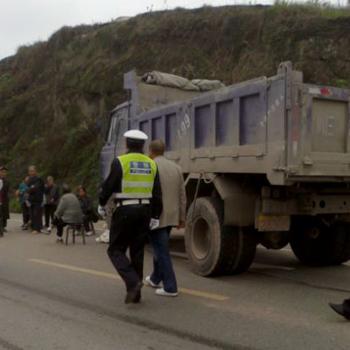 The world was horrified earlier this month by the shocking video of a toddler being run over twice in China, ignored by passersby and left bleeding on the side of the street, and now RadarOnline.com has learned of a second appalling incident.
Five-year-old Xiong Maoke was on his way home from nursery school in Luzhou, western China when he was hit by a truck and then the cold-hearted driver allegedly reversed back over the young boy to make sure he was dead to avoid having to pay costly hospital bills, reported the Daily Mail.
Article continues below advertisement
The sickening act comes just five days after two-year-old Wang Yue died of her injuries following the double hit-and-run that left her bleeding in the street at a busy market in Foshan in Guangdong Province as more than a dozen people drove, cycled and walked past her but didn't offer help, as RadarOnline.com previously reported.
The incident sparked outcry across the world questioning the morality in China's fast-changing society. A national "Stop Apathy" online campaign that has been launched on Sina Weibo, China's equivalent of Twitter, has already gotten millions of posts.
A witness to the latest incident revealed how he saw the driver, Ao Yong, hit the five-year-old child and then back up over him to finish the job.
"I saw the truck move back a little and then move forward again. Xiong became wrapped up in the wheel and the truck continued forward another ten yards," said Zhang Shifen.
Passersby claim Yong jumped out of the cab, off the truck and asked, "How much shall I pay?"
Article continues below advertisement
According to police, he then argued with Maoke's family for seven hours about the cost of the damages. The driver denies reversing over the boy and police have determined that he died on impact.
Officials in China are playing down the incident stating that the body of the boy was left trapped under the truck's wheels as his mother cried hysterically on the side of the road because a gang of angry villagers were demanding immediate compensation from the driver.