Toddler Who Was Run Over Twice And Ignored As She Lay Bleeding In The Street Dies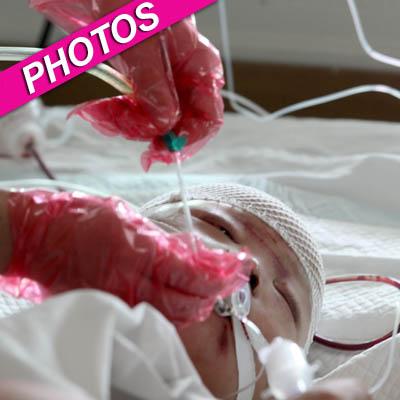 The double hit-and-run in China that left it's two-year-old victim bleeding in the road as cars and pedestrians passed by without coming to her aid, has ended in tragedy, RadarOnline.com has learned.
Wang Yue died from her extensive injuries, which left her with little brain activity, at about 12:32 a.m. Friday, according to officials at the Guangzhou Military Hospital, in Guangzhou, China, reported CNN.com.
Article continues below advertisement
The obvious neglect of a child in need has shocked people around the world as a graphic video captured by a security camera showed her being run over by two different vehicles, as more than a dozen people walked, drove or cycled by in the busy market in Foshan in Guangdong Province, completely ignoring her plight.
"Her little life has left this world," said Su Lei, director of the intensive care unit at the hospital. "We feel deep pain and shame as everybody does."
The severely-injured toddler was eventually rescued by an unlikely guardian angel, a 58-year-old scavenger, who pulled her to safety from the street. Both drivers who ran her over have reportedly been arrested.
In heart-wrenching photos and video obtained by RadarOnline.com, the little girl's parents can been seen crying and distraught in the hospital after learning of the death of their daughter.
Yue's mother, Qu Feifei, a migrant worker in the city, said she didn't understand the cold-hearted behavior of the passersby, but she wanted to thank the one woman who tried to save her.
Article continues below advertisement
"Granny Chen represents the best of human nature," she said of her daughter's rescuer. "It's the nicest and most natural side of us."
The tragic accident has sparked outcry across the world slamming the of morality in China's fast-changing society.
A national "Stop Apathy" online campaign that has been launched on Sina Weibo, China's equivalent of Twitter, has already gotten 4.5 million posts.
Many people in China have called for the government to introduce a 'Good Samaritan law' to punish those who refuse to help people in need.