Exclusive
Tila Tequila's Eating Disorder Had Her Down To 75 lbs: See The Shocking Photos!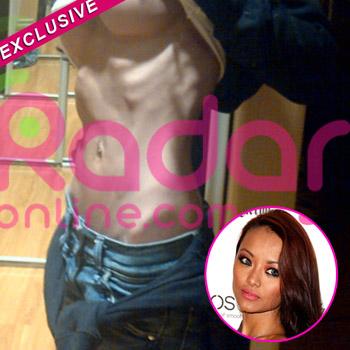 Tila Tequila wasn't just dealing with addiction before she entered rehab earlier this year, she was struggling with an eating disorder, and RadarOnline.com has exclusively obtained shocking photos of the reality-TV star's rail-thin body.
In March, Tila was hospitalized for nearly a week and followed up her release with a month-long stint at a Florida rehab treatment center.
Article continues below advertisement
"Tila is a really small girl to begin with so she usually weighs around 100 pounds, but at the height of her sickness she was down to 75 pounds," a source close to Tila exclusively revealed to RadarOnline.com.
"She began to realize she had a problem when she started to see her bones protruding from her body. It really scared her."
According to the source, the photos of Tila were taken just shortly before she hit rock-bottom and entered rehab.
"She was able to gain most of her weight back while she was in rehab and is up to 90 pounds now," the source said.
"It's still an everyday battle for her, but at least she's sober and healthy."
By the end of April, Tila was ready to show off her weight gain when she walked the red carpet at Star magazine's All Hollywood Party and was even spotted on a dinner date with producer David Weintraub. At the time Tila joked they were engaged, but nothing has been confirmed.
Article continues below advertisement
"Tila hopes young girls will be inspired to take care of themselves like she did. She's a fighter and has been through a lot, but she's not giving up," the source continued.
"She's changed so much since returning from rehab. She's much happier these days and more like the old Tila we all loved. We're proud of her."
RELATED STORIES:
Ugandan Police Arrest Taxi Driver Over Drug Death Of Amazing Race Producer