She'll Be Back! Teresa Giudice Set To Return To Celebrity Apprentice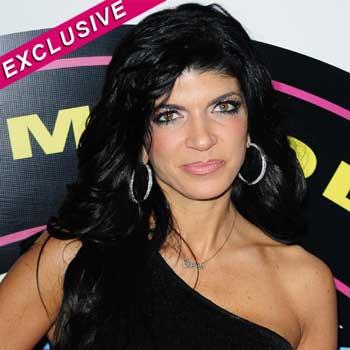 Article continues below advertisement
"People underestimated Teresa, she is a lot smarter than people realize and she has always used that to her advantage," says the insider. "Teresa has a college degree and was a successful business woman before joining Housewives, she knows exactly what she is doing.
"There is a reason why Teresa is the only Housewife on the New Jersey franchise with a brand that spans multiple product categories and there is a reason Mr. Trump selected her for Celebrity Apprentice, she is very smart," they add.
As RadarOnline.com previously reported, competing on Apprentice has had a deep-rooted affect on the 39-year-old, who claims to have experienced somewhat of an epiphany after being exposed to people with real problems.
"Celebrity Apprentice was a great experience," Teresa told RadarOnline.com.
"Mr. Trump has really helped me take my business to the next level. My sparkling wine cocktail Fabellini is doing very well and I just launched a new teeth whitening product that is a huge hit with Pearlbrite Concepts," said the business maven.
Article continues below advertisement
"My third cookbook, Fabulicious, Fast and Fit will be released on May 15. In addition, I have several other product categories in the works and anyone interested can check out my website, www.teresagiudice.com."
When asked about the drama with on-screen rivals Debbie Gibson and Aubrey O'Day, Teresa revealed that there is no bad blood now that the cameras are no longer rolling.
"We really didn't take anything personally. Debbie and I keep in touch and we are doing great. Lisa (Lampanelli) and I have also forged a friendship, we all became very close on this show."
The outspoken Italian American is no stranger to catfights and explained that she doesn't let confrontations get her down, preferring to forgive, forget and move forward.
"I personally am not a fan of holding on to the drama of the past, I like to start fresh and look to the future, life is too short for drama," she told RadarOnline.com, referring to the sparks viewers are currently seeing flying on RHONJ.
Article continues below advertisement
"It is hard for me to keep up with the Housewives drama. We filmed Housewives last year so what you are seeing and a lot of what you are reading is indicative of the past and in the present I am focused on Celebrity Apprentice.
"I filmed Celebrity Apprentice after Housewives so quite a bit of time has passed since then and we are all in a much better place now," she added.
RELATED STORIES: