Celebrity Apprentice: Who Was Fired?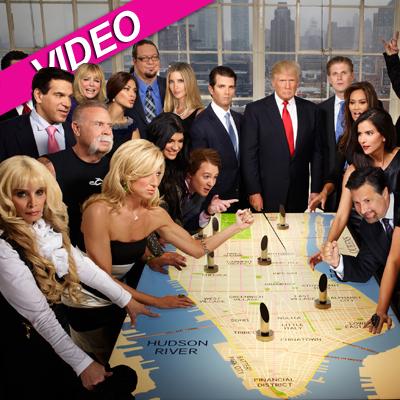 Donald Trump let Dayana Mendoza go on Sunday night's episode, as the former Miss Universe was already on thin ice having been on the losing side six prior times, which The Donald mentioned toward the end of last week's episode.
On Sunday, she was project manager for Team Forte, leading teammates Clay Aiken and Lisa Lampanelli against Team Unanimous, composed of project manager Arsenio Hall, Aubrey O'Day and Teresa Giudice in a task to compose the catchiest jingle for Good Sam, an RV-based company.
Article continues below advertisement
Clay and Lisa have been plenty vocal with teammates this season, and the trend didn't end Sunday, as both ripped the Venezuelan stunner for not trusting their experience in making a jingle, which she knew nothing about.
"It was like the blind leading the seeing," Clay, who sang the team's 60s-themed jingle, said of the 25-year-old ex-Miss Universe.
Lisa and Dayana didn't get along at all, with Lisa calling Dayana a passive-aggressive "little b***h."
Despite Teresa's best efforts, Arsenio and Aubrey clashed throughout their cheerleader-themed jingle, though functioned better enough than their bickering rivals to pull though.
Things took a turn for the dramatic in the boardroom, where Clay and Lisa vented after a frustrating week, saying Dayana didn't understand the nature of the jingle-themed task, but tried to crack the whip on them nonetheless.
Article continues below advertisement
"Was it tough because she was … somewhat absent, or was it tough because she was difficult?" Trump asked Clay, who replied, "It was tough because she wasn't absent!"
The remaining stars in the running for this year's crown are, in alphabetical order: Aiken, Guidice, Hall, O'Day and Lampanelli.
Watch the video on RadarOnline.com
Past winners of the competition, which is played for charity, include talk show host Piers Morgan, legendary comic Joan Rivers, Poison frontman Bret Michaels and country singer John Rich.